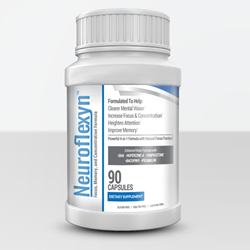 Neuroflexyn™, a high-quality "nootropic" smart supplement, is now available to consumers on Amazon.com
Los Angeles, CA (PRWEB) January 02, 2015
Neuroflexyn™, a high-quality "nootropic" smart supplement, is now available to consumers on Amazon.com, the second-largest internet based retailer in the world.
Neuroflexyn's inclusion among the products for sale on Amazon is significant in part because it signals the rising role that nootropics, or smart supplements, are playing in the average person's dietary habits in today's society. While the idea of a cognitive enhancement being available in the form of a pill might seem like something out of a science fiction novel, humans have been aware of these substances and using them for that purpose for hundreds of years.
The proprietary blend found in Neuroflexyn™ is notable for its incorporation of the most well-studied and effective nootropic compounds known today. Created in an FDA licensed laboratory operating under the highest standards of quality assurance, Neuroflexyn's broad worldwide availability on Amazon.com suggests that health-conscious consumers are taking an increasingly hands-on approach to their cognitive function.
Neuroflexyn™ contains powerful ingredients which have been the subject of dozens of peer-reviewed studies in leading medical journals. Choline, a precursor for neurotransmitter formation associated with learning new information, is found in abundance in Neuroflexyn. As is Bacopin®, arguably the most thoroughly-studied and effective nootropic in existence, which has shown demonstrable memory enhancement in clinical trials. Neuroflexyn™ is rounded out by compounds such as Omega-3 and GABA, substances shown to regulate mood, protect neural activity, and quell anxiety.
Neuroflexyn™ is made in the United States at an FDA licensed and certified cGMP (current Good Manufacturing Process) facility. Neuroflexyn™ is available from http://www.neuroflexyn.com and is created within a rigorously professional laboratory environment. For more information about nootropics and the Neuroflexyn™ smart supplement, visit http://www.neuroflexyn.com.