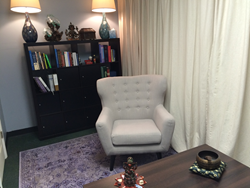 She takes time with her patients and you always feel as if you are being well cared for. – N.C.
Brooklyn, NY (PRWEB) January 31, 2015
Garden Acupuncture wants to welcome newest member of the team Mrs. J Aiyana. Mrs. J has Been In Clinical Practice as an Acupuncturist & Herbalist Since 2001. Her passion for natural health drives her to teach and to write about all types of healthy things, about living a naturally fit and healthy lifestyle in body & mind, instinctual mothering & attachment parenting, optimal fertility, health activism and human rights.
She has also worked in the natural health profession for two decades, spending the past decade as a practitioner of Traditional Chinese Medicine in NYC. The previous decade she worked as a massage therapist specializing in neuro-muscular pain and pregnancy related pain.
Her career opened the pathway to teach workshops, and to author a book, Acupuncture, Chinese Medicine & Healthy Weight Loss, (Blue Poppy, 2007) to publish several professional journal articles, and to be interviewed for a bunch of cool magazines, podcasts, and other media.
Garden Acupuncture is extremely excited to welcome her to the team and to add her skills of pediatrics and dermatology to the practice.
Garden Acupuncture is a family-run, small business in the heart of Park Slope. They pride themselves on individualized, affordable treatments and are committed to offering the best holistic care to the local community. They also accept insurance.
790A Union St. (between 6/7th Ave)
GardenAcu.com
646.234.3643
Garden Acupuncture specializes in fertility medicine, weight loss and allergies using acupuncture, Chinese herbal therapy and nutritional counseling.