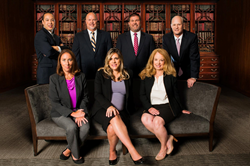 Waltham, MA (PRWEB) November 26, 2015
Chris and Michael joined New York Life in 1995 and are associated with the Boston General Office in Waltham, MA. They are the founding partners of the Atlantic Planning Group where they provide businesses and affluent individuals and families with innovative financial solutions.
Over the past two decades, they have won numerous industry awards including National Association of Insurance and Financial Advisor's National Sales Achievement Award and National Quality Award. They are also members of the Million Dollar Round Table and have reached Top of the Table status. In addition, Mr. Battersby and Mr. Broderick have served on New York Life's Agents Advisory Council, and on the Board of Directors for The Nautilus Group®, a service of New York Life Insurance Company.
Chris and his family reside in Holliston, MA and Michael and his family reside in Westwood, MA, where they are both very active in their communities. To learn more about Chris and Michael, visit AtlanticPlanning.com.
New York Life Insurance Company, a Fortune 100 company founded in 1845, is the largest mutual life insurance company in the United States* and one of the largest life insurers in the world. New York Life has the highest possible financial strength ratings currently awarded to any life insurer from all four of the major credit rating agencies: A.M. Best (A++), Fitch (AAA), Moody's Investors Service (Aaa), Standard & Poor's (AA+).** Headquartered in New York City, New York Life's family of companies offers life insurance, retirement income, investments and long-term care insurance. New York Life Investments*** provides institutional asset management. Other New York Life affiliates provide an array of securities products and services, as well as retail mutual funds. Please visit New York Life's Web site at http://www.newyorklife.com for more information. Atlantic Planning Group is not owned or operated by New York Life Insurance Company or its affiliates.
*Based on revenue as reported by "Fortune 500, ranked within Industries, Insurance: Life, Health (Mutual)," Fortune magazine, 6/ 15/15. See http://fortune.com/fortune500/ for methodology.
**Individual independent rating agency commentary as of 8/11/15.
***New York Life Investments is a service mark used by New York Life Investment Management Holdings LLC and its subsidiary, New York Life Investment Management LLC.
MDRT is recognized throughout the insurance industry as the standard of excellence in life insurance sales performance
Top of the Table is the highest level of MDRT, achieved by less than 1 percent of the industry's professionals