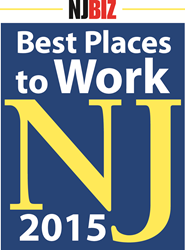 Our team loves it here because of the various and challenging cloud, mobile and IoT projects they engage in and the investment that we make in training and growing our people
Fair Haven, NJ (PRWEB) May 01, 2015
NJBiz hosted their annual "NJ Best Places to Work" awards ceremony last night which recognized ForeFront Inc, an awarded cloud solutions provider and global systems integrator, amongst the Top 10 list. The Best Places to Work in New Jersey awards program recognizes and honors the state's top employers who show a dedication to their employees' growth and quality of life.
"This is our first time appearing on the awards list, we are extremely proud that ForeFront has been named one of the Best Places to Work in New Jersey 2015," said Anne Marie Berger, Managing Partner. "We celebrate this accomplishment as a team and we want to thank our DRIVEN team for helping to create this culture!" ForeFront's DRIVEN culture is an acronym for Determination, Respect, Integrity, Versatility, Esprit De Corps and Nurture. "We think of our clients more as partners, we've had some of our clients for 17 years and the reason we keep them is because of our people and culture."
Companies across the entire state and across all industries apply each year to this program. The Best Companies Group splits the applicants into 2 groups: small and medium-sized companies (15-249 employees) and large companies (250 + employees). The group then conducts a simple yet thorough assessment of each qualifying company.
The assessment is a two-part survey process, part 1 includes a review of employer benefits, policies, practices and demographics. The second survey is anonymous and is taken by each company's employees to measure overall employee engagement and satisfaction. "Based off the survey feedback report, our team loves it here because of the various and challenging projects they engage in and the investment that we make in training and growing our people," said Maggie Tran, ForeFront's HR Director and General Counsel.
The combined scores determine the top firms and the final ranking. NJBiz released the names of 100 named finalists in February in which 65 were considered small to medium-sized and 35 large companies. Last night's ceremony at the Hilton East Brunswick named the following Top 10 NJ Best Places to Work:
Small/Medium Company
1. The Casey Group, Inc.
2. Wilkin & Guttenplan, PC
3. The Eagle Group
4. RAMPS International, Inc.
5. Kreinces Rollins & Shanker LLC
6. Internet Creations
7. Condor Capital Management
8. ForeFront, Inc.
9. The Sawtooth Group
10. New Day Underwriting Managers LLC
As a result of this award, ForeFront has also been identified as a finalist in NJ Biz's 2015 Best Places to Work for Millennials award in recognition of creating a workplace environment where Millennials prefer to be employed.
About ForeFront:
ForeFront is an awarded cloud solution provider based in the NJ/NY metro area with worldwide market reach. ForeFront is uniquely positioned to innovate, build and deliver cutting edge business solutions to address today's "Value Chain" management challenges across cloud, ERP Legacy systems, mobile, and IoT platforms. ForeFront helps companies to fully automate their business processes from quote-to- order fulfillment, revenue recognition, intricate pricing to service entitlements tracking, call center management, and more to achieve an end-to-end customer experience lifecycle.
ForeFront partners with the best-of-breed in technologies – Salesforce, IBM, ServiceMax, Birst, Apttus and more – to create seamlessly integrated solutions. ForeFront's differentiation is in our industry insights – Life Sciences, Retail, Media, High-Tech – coupled with their custom software development capabilities.
ForeFront is providing their clients the strategic insights to stay globally competitive through connecting process, technologies, applications, and machines across the enterprise to improve organizational alignment and performance.
The ForeFront team is growing and expanding! ForeFront invites you to learn more about their opportunities in Sales, Project Management, Development and more. Please contact ForeFront at hr(at)forefrontcorp(dot)com