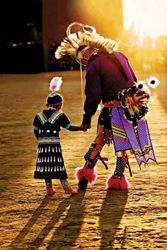 Shenandoah Valley lives from Farm to Table - celebrating the Harvest
Harrisonburg, Virginia (PRWEB) October 29, 2015
With the summer and fall both leaving and November coming this weekend, one may think that it is time to hibernate like a bear until Spring arrives. Although some of the valley's agri-tourism industries are preparing to shut down, there are others that the brisk days of November could not be more perfect for. Taking a hike, visiting a winery or brewery, or going to a live music concert is just three of the many travel experiences a visitor can have in the Piedmont and Shenandoah Valley. Go Blue Ridge Travel is going to highlight a weekend visiting small towns.
Starting with the small town of Berryville, Virginia, this weekend is the first annual "Gathering the Harvest." Berryville is a very small main street community surrounded by large rolling horse farms so it seems strange to see a large educational agri-culture event occurring. Over 11 Virginia Indian tribes will be represented at a traditional harvest festival Oct. 30 – Nov.1 at the Clarke County Fairgrounds in Berryville, Va. A must experience for all ages.
When one thinks of hiking one usually thinks of the Appalachian Trail or the C & O Canal, but sometimes one can look right in one's backyard. Marilyn Finnemore a hiking enthusiast shares a great hike on Loudoun County's back roads near Purcellville, Virginia. If one wants to get more adventuresome and think about hiking and camping with a canine, the kids or a special love one, then stopping in at Appalachian Outdoor Readiness and Essentials is a great way to prepare. Appalachian has a full line of camping and hiking equipment as well as helpful videos to get prepared.
Sometimes it is not necessary that one has to do a strenuous hike but the Shenandoah Valley is great place to enjoy a great walk in the woods. Wondering thru Elizabeth Furnace Campground is an easy walk along the river. Then drive up to the top of the mountain in the Lee Ranger District of George Washington National Forest that leads to a fire tower. The tower was built by the Civilian Conservation Corps and provides a 360-degree view of the town of Woodstock, Fort Valley, and the seven bends of the Shenandoah River and is one of the best panoramas in the Massanutten range of mountains.
If you are a foodie fan, then wrap up one's hike in the Shenandoah Valley by visiting one of the many wineries, breweries, or distilleries.
Winchester has a wealth of history with George Washington Headquarters and the Museum of the Shenandoah Valley housing a salute to the Shenandoah Valley. Home of the only privately endowed public high school, Winchester is probably best known as the home of legendary country music singer Patsy Cline. A great way to spend enjoy the town is to stay at The George Washington Hotel with its infamous roman spa pool. An easy walk downtown can take you to the Bright Box for live music or a night of comedy.
Named the first Culinary District in Virginia, Harrisonburg's variety of both locally-owned and nationally-recognized restaurants will take you on a culinary trip around the world, providing flavors to satisfy even the most discerning palette. Many of the area's melting pot of restaurants also bring the farm-to-table philosophy to life, creating gourmet dishes from locally-sourced ingredients. Whether you prefer to dine rooftop, out on the patio, in a historic building, among local art, or in front of a local food truck, there's a restaurant with its own distinctive atmosphere for you in the dining destination of the Shenandoah Valley. Enjoy a great walk around the downtown in between your culinary experience.
Massanutten Resort will give you a mountain experience without camping out. Just outside of Harrisonburg, Massanutten offers something for all seasons. A great ski resort, it's Water Park ranks in the top five in the US. When one turns off of Route 33, one begins to tune out the pressures of the city life and prepares to put one's feet up by the fireplace and let it snow.
In between the great cities of Winchester and Harrisonburg is a group of small towns all belonging to Shenandoah County. Known for its Artisan Trail, Shenandoah County is also the home of Shenandoah Caverns Family Attractions. Coming up November 4th, experience the Uncorked Festival and enjoy a day of agriculture heritage.
Go Blue Ridge Travel's final choice of small towns is Basye, Virginia. About twenty minutes off of Interstate 81, Basye is the home of Bryce Resort. Stay in one of the many cabins or condos and enjoy a day on the golf course or in case of snow, a day on the slopes. Then wait on Spring to come around so one can ride the ski lift up the top of the mountain and fly down on a mountain bike after some instruction, of course.
About GoBlueRidgeTravel.com
Launched in December 2011, Go Blue Ridge Travel (GoBRT) is an e-commerce marketing company using digital internet channels to both create a travel ecosystem community. Founded and owned by Nancy Craun who grew up in the area and has 30 years of experience in the event planning, restaurant, hotel, and marketing arenas. GoBRT covers 160 plus mile radius of the Interstate 81 Corridor spanning the states of Virginia, West Virginia, and Maryland. In 2014, the Kids Trail was launched with grants from Virginia Tourism and now has over sixty partners with a mission to showcase multi-generational travel in the Blue Ridge Mountains and Shenandoah Valley.
Contact: Nancy Craun Founder and President GoBlueRidgeTravel.com and ShenandoahValleyKidsTrail.com Phone: 540.533.1853 Email: info(at)GoBlueRidgeTravel(dot)com