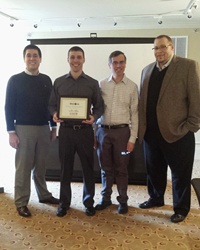 "We greatly value our long-standing relationship with Cisco, and continue to view the company and outstanding employees as a key strategic partner," said Anthony Hamilton, Chairman and Executive Vice President
Reston, Virginia (PRWEB) January 21, 2015
On January 15, 2015 NterOne Corporation was awarded Cisco's customer innovation award for the first quarter of fiscal year 2015. This award is given to a single customer four times a year on a regional level. The award is based on leveraging Cisco solutions to build highly innovative, forward-thinking next generation IT solutions. "We are very proud and honored to be recognized by Cisco with this prestigious award," said Anthony Hamilton, Chairman and Executive Vice President at NterOne. "We greatly value our long-standing relationship with Cisco, and continue to view the company and outstanding employees as a key strategic partner."
The award was based on two key contributing solutions. The first is NterOne's new and innovative solution for delivering live online and video on demand training, NterOne ClearConnect. This new delivery modality allows students to either enjoy HD quality training on demand, or in a live online setting. The live online service allows both Cisco WebEx connected students, and/or Cisco Telepresence endpoints to connect to the same learning platform.
The second solution that contributed to the award is based on Cisco's Nexus 9000 product line, including a full application stack that truly embraces next generation Software Defined Networking (SDN). This solution, combined with NterOne owned data center facilities, allows the company to fully embrace and align to scaling the new virtualized data center.
NterOne will continue to invest in Cisco technology over the course of 2015. The company has plans to launch many new exciting products and services that will continue to impact the IT training industry.
About NterOne:
NterOne is a global training and consulting company focusing on live online training, self-paced e-learning, and private onsite training. The company is headquartered in Reston, VA, but mainly operates virtually by allowing their employees to work out of their home office to reduce the company's overall carbon footprint. NterOne is a Cisco Learning Partner, and a VMware Authorized Training Center, and operates their own Data Center in North Carolina. The company's key technology focus areas are Virtualization, Data Center, Routing and Switching, Voice, Collaboration, Optical, Wireless, and Security.
For more information, please visit the corporate web site at http://www.NterOne.com.
NterOne is a registered trademark of NterOne Corporation in the United States and/or other jurisdictions. All other marks and names mentioned herein may be trademarks of their respective companies.
Cisco and the Cisco logo are trademarks or registered trademarks of Cisco and/or its affiliates in the U.S. and other countries.