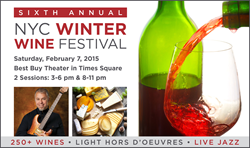 We look forward to returning to the Best Buy Theater with over 250 wines selected by Vintry Fine Wines, plus incredible music from Special EFX and light fare to complement the wines...
New York, NY (PRWEB) January 07, 2015
New York Wine Events (formerly New York Wine Festivals) announces their 6th Annual NYC Winter Wine Festival at the Best Buy Theater on Saturday, February 7, 2015. The Times Square tasting event will feature 250+ wines curated by the experts of Vintry Fine Wines, light accompaniments of pasta, artisan breads, cheeses and hors d'oeuvres, plus sampling tables from select artisan food companies. Attendees will also enjoy live contemporary jazz performances during each tasting session from Grammy nominees Special EFX, led by award-winning guitarist Chieli Minucci, plus take home a custom etched wine glass post-event.
Tasting tables located throughout the expansive venue will have a vast selection of wines curated by Vintry Fine Wines. "This year's grand tasting will feature a fantastic selection from around the world, including favorites from the US, France and unique and well-known regions abroad. From the Piedmont and Napa Valley to Rioja and Chile, this year's event provides a unique opportunity for attendees to discover the great wines of the world," explains Mike Martin, Wine Director at Vintry Fine Wines.
The popular February event has historically sold out prior to the event date and the upcoming 6th annual fest, dubbed one of the "17 Things You Have to Do This Winter in New York City" by Thrillist, is expected to do the same. Attendees can chose from 2 sessions: Afternoon: 3-6pm or Evening: 8-11pm. With a premium ticket option, a limited number of guests may select the new VIP Suite Ticket. The exclusive VIP area will feature 15 high-end wines including Chateau Montalena, Antinori Tignanello, and Taittinger Comtes de Champagne plus a deluxe selection of hors d'oeuvres including Pate de Mousse de Fois Gras with Cranberry Compote on Ficelle and Filet Mignon with Yukon Gold Potato and Bearnaise Sauce. (Note: Wines may vary slightly due to availability.)
"We look forward to returning to the Best Buy Theater with over 250 wines selected by Vintry Fine Wines, plus incredible music from Special EFX and light fare to complement the wines," notes S.W. Kimball, Founder, New York Wine Events. "We're also very excited about adding our special VIP Suite to this year's event which will feature high end wines and exclusive accompaniments for those who wish to expand their festival experience," he adds.
Musical guests, Special EFX celebrated their 30th anniversary in 2014. The Grammy nominated contemporary jazz group will take the stage during each session of the 2015 New York City Winter Wine Festival, led by guitarist Chieli Minucci. Also a composer for TV and film, Minucci has been nominated for 10 Daytime Emmy Awards and has won three (1998, 2007 & 2008.)
This year's Wine fest will also utilize Winevento, the free iPhone and Android app that lets users Rate, Favorite, Save and Share wines at participating tasting events. Free Wi-Fi access will be available for attendees to download and use the app; screens throughout the venue will note users' top-rated wines in real time.
Sponsors to date include: Adrienne's Allure, Bonne Fete Baking Inc., Brotherhood Winery, Cracked Candy, Green Mountain Energy, Sahadi's Fine Foods, The Luscious Little Dessert Company, The Olive Table, and Traci Lynn Fashion Jewelry. Additional sponsors to be announced; check web site for details.
Tickets for the 2015 NYC Winter Wine Festival are $79 and are on sale now. (Final 2 Weeks: $89) Space is limited; advance purchase is highly recommended. VIP Suite tickets are $199 and include the main tasting. For details or to purchase tickets, visit NewYorkWineEvents.com or order by phone at (866) 811-4111.
About New York Wine Events
New York Wine Events hosts elegant wine tasting events at first class venues in New York City and northern New Jersey. The company's goal is to provide a wine tasting experience that allows guests to sample as many diverse wines as possible while enjoying great music and the company of other wine lovers. Visit NewYorkWineEvents.com.
About Vintry Fine Wines
Vintry Fine Wines brings fine wine to NYC's revitalized downtown. With 2,500+ selections focusing on both collectibles and drinkables, Vintry is a destination in bourgeoning Battery Park City. Featuring iconic design marrying classic and modern elements by architecture firm Rogers Marvel, this indicates what the store is all about: the best wines from both old and new world regions. Visit VintryFineWines.com.
###