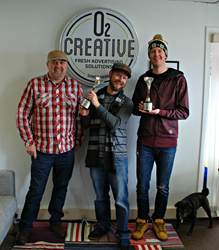 Seeing businesses and organizations thrive because of our work is what motivates us!
Fraser, CO (PRWEB) February 11, 2015
The International Academy of the Visual Arts (IAVA), recognized the work of O2 Creative, LLC with two Silver Davey Awards.
O2 Creative received the awards for their outstanding Digital and Print Marketing for Winter Park Lodging Co. and the cohesive and creative trail signage they produced for the Town of Winter Park and the Headwaters Trails Alliance. O2 Creative's fresh design concepts and attention to detail set their work apart from over 4,000 entries.
O2 Creative received one Davey for the creativity, effective designs, and brand consistency they achieved throughout the large variety of collateral for Winter Park Lodging Co.
"We worked very hard to design and creatively carry the Winter Park Lodging Co. brand from vacation guides to website design to e-newsletters," said Eric Vandernail, co-owner of O2 Creative.
The second Davey was awarded to O2 Creative's work on trail signage for Winter Park and the Headwaters Trails Alliance. These two signage projects took over a year to complete and involved the design and printing of 100+ signs. This project combined: graphic design, research to identify materials that would stand the test of time, the study of wayfinding, and a lot of collaboration with all the stakeholders involved in these projects.
"It has been extremely rewarding to see our signage used by people on a daily basis in such a wide geographical area." Eric said.
"This year's Davey Award winners truly embody the idea of small firms with big ideas," noted Linda Day, Executive Director of the Davey Awards. "Congratulations once again for a job well done."
"It is great to receive these Davey awards on behalf of our work," Eric stated, "but the most fulfilling part is knowing that our work is helping great companies, communities, and organizations thrive and grow. That is why we do what we do!"
###
About O2 Creative, LLC:
Founded in 1996, O2 Creative is a full-service advertising agency dedicated to helping businesses and nonprofits connect to their consumers through graphic design, website development, and marketing. For more information about O2 Creative, visit http://www.o2creativedesign.com or find them on Facebook.
About The Davey Awards:
The Davey Awards exclusively honor the "Davids" of creativity, the finest small firms, agencies and companies in the world. David defeated the giant Goliath with a big idea and a little rock - the sort of thing small firms do each year. The annual International Davey Awards honors the achievements of the "Creative Davids" who derive their strength from big ideas, rather than big budgets.