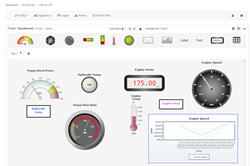 STW's Vehicle Data System is a complete, best of breed, easy to use off highway telematics solution for local and remote connectivity, diagnostics and analytics.
Peachtree Corners, Georgia (PRWEB) October 05, 2015
STW Technic, a premier manufacturer of mobile controllers and measurement technology, today announced a fully updated new release of its Vehicle Data System software and services that brings the latest in telematics technology to the off highway world. The new release – VDS Remote - offers a complete best-of-breed solution for local and remote connectivity, diagnostics and analytics.
Combined with STW's ESX-TC3G telematics hardware module, the Vehicle Data System offers every possible scenario for connectivity – local, remote, wifi, cellular and wired – with full functionality available in all modes for every type of intelligent client device (PCs, tablets, smart phones). The unique and powerful web-based configurability of VDS allows access to CAN, J1939, CANOpen and ModbusIP data with supreme ease.
One of the key features of any successful telematics system is the ease of use and the user interface. In VDS, a simple drag and drop interface can be used to create a wide
variety of gauges, meters, LEDs and charts fully customized for your diagnostic projects. Some of the new features include using Google Maps for asset tracking and using customized event triggered logs to conserve memory and bandwidth. Additionally, 3rd party servers can receive data and alarms through a simple web service.
About STW Technic: STW Technic is an award-winning provider of a full spectrum of freely programmable controllers, I/O modules, pressure sensors and telematics to a wide range of industries such as mining, construction, agriculture and oil and gas. STW controllers, sensors, I/O modules and Telematics units have attained a leading role in these industries due to their rigorous testing, high quality German engineering and unmatched flexibility. All of STW's products are mobile off-highway rated. STW is also in the forefront of developing and prototyping hybrid drive technologies – generators and motors – for mobile applications