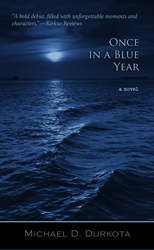 A bold debut filled with unforgettable moments and characters...
Pittsburgh, PA (PRWEB) August 05, 2015
"Once in a Blue Year," by Michael D. Durkota, has been selected by The Independent™ Author Network (IAN) as a 2015 Book of the Year Award finalist in three categories – Overall Book of the Year, First Novel, and General Fiction. Finalists were selected based on vibrant covers, attention-grabbing openings, memorable characters, crisp dialogue, captivating and original plots, and climactic, memorable endings. Durkota's debut novel is also nominated for the National Book Foundation's 2015 National Book Award – one of the nation's most prestigious literary prizes that identifies and rewards quality writing from established and emerging writers. IAN award winners will be announced in mid-August and the National Book Award finalists will be announced in October.
Unraveling through different points of view in both present action and flashbacks, "Once in a Blue Year" follows two U.S. Navy barracks roommates who remain onshore when their submarine is deployed during the Persian Gulf War, leaving each to resolve his own inner conflicts. Dan is depressed about receiving a medical discharge, and Trevor is seething with anger over the incident that forced him to miss his deployment. They must find their way in life, navigate romantic relationships, and come to terms with the event at sea that forever changed their lives.
Durkota articulates real and relatable feelings and problems that can take an emotional toll on family and friends when loved ones are deployed and when they come home. "Once in a Blue Year" focuses on those that are left behind who are experiencing feelings of love, anger, loneliness, sadness, and anticipation. It also provides a glimpse into the minds of sailors who are experiencing very similar feelings while at sea.
"I'm honored and excited that my novel has been nominated to win the prestigious literary awards from The Independent Author Network and National Book Foundation," commented Durkota. "It's great to be part of a vibrant community of emerging writers."
Kirkus Reviews called Durkota's novel "A bold debut, filled with unforgettable moments and characters… And while Durkota's work often feels like a thriller, it's more of a psychological study in which the characters, like flashes of lightning, are wonderfully alive for a very short time."
"Once in a Blue Year" is available on Amazon.com. More information about this dramatic military story, including the full Kirkus Review, can be found at durkota.net.
About Michael D. Durkota
Michael D. Durkota, a former submariner in the U.S. Navy, holds a Master of Fine Arts degree in Fiction from the University of Pittsburgh. His debut novel, Once in a Blue Year, follows two friends during the Persian Gulf War as they struggle with their navy service, adulthood, and relationships. Durkota lives in Pittsburgh, Pennsylvania, with his wife.