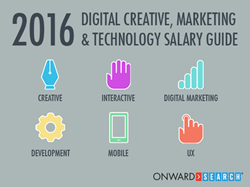 We live in a world where companies exist online. This has created extremely high demand for professionals in the digital marketing and creative spaces. - Onward Search President Mike Ondocin
New York, NY (PRWEB) December 03, 2015
Onward Search, a leading recruitment agency for digital, creative, and marketing talent, has released a new online interactive salary guide titled "2016 All Star Salary Survey." (To view online visit: http://www.onwardsearch.com/career-center/digital-creative-marketing-salaries/ ) This online resource highlights more than 50 of the most in-demand professions, the top 20 hiring markets for each job title, and the associated salary range. The interactive format allows both talent and employers to drill down their search based on vertical, job title, and location.
Onward Search calculated the information for the salary guide by combining data from our proprietary client base, Glassdoor, CareerBuilder, and Indeed. According to the findings, "Information Architect" was listed as the profession with the highest earning potential with a nationwide average salary of $104,700/year. It was followed by "Mobile UX Developer" and "Creative Director". The location with the highest volume of open jobs across all professions was New York, NY.
"We live in a world where companies exist online," said Mike Ondocin, President, Onward Search. "This has created extremely high demand for professionals in the digital marketing and creative spaces. We're excited to present this data as a way for employers to make better educated decisions about the professionals they are hiring, and to help that same talent identify their worth in the market."
Companies today are focused on creating and updating their digital presence, inventing new and useful applications and digital products, and providing better customer service through non-traditional channels such as live online chats. The result is a higher demand than ever for professionals in these areas.
"The need for skilled digital marketing and creative professionals among the companies we speak with is clear," said Ondocin. "We work closely with our talent to understand their strengths and what factors motivate them in order to ensure a great match between talent and employer."
The "2016 All Star Salary Survey" is the latest installment of an ongoing series of visual guides for digital marketing and creative professionals from Onward Search. The goal of the series has been to provide both job seekers and employers with a graphically appealing and easily accessible set of benchmark documents to reference when assessing job opportunities or potential new hires.
About Onward Search:
Onward Search is the nation's leading recruitment and staffing agency for digital, creative, and marketing talent. We offer a full range of solutions to include contract staffing, permanent placement, and executive search. Onward Search is headquartered in Wilton, CT with its flagship sales office in New York, NY and regional offices throughout the United States and England. We can also be found on Twitter at @onwardsearch, or on Facebook at facebook.com/onwardsearch.