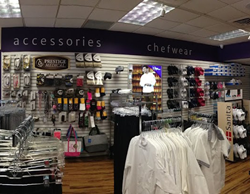 "We are dedicated to making the life of the hard working nurse, chef, lab technician or service employee more comfortable ..."
New Haven, CT (PRWEB) June 10, 2015
Work Hard Dress Right, the work apparel supplier for virtually any job, has opened its new flagship store in downtown New Haven, and in the process has improved and expanded the shopping experience for its customers.
Brian Feury, President of Work Hard Dress Right, announced the new location of the company store at 127 College Street, New Haven (between George Street and North Frontage Road/Martin Luther King. Jr. Boulevard) across from the Yale School of Public Health.
Previously located in West Haven, the company sought to move, according to Feury "to be more accessible and convenient to our many New Haven-area customers, and to provide them with both a shopping environment and experience that will exceed their expectations."
Shoppers at Work Hard Dress Right in New Haven will choose from the top brands in workwear, including Wink Scrubs, Barco, Peaches, Chef Works, Bulwark, Eddie Bauer, Lee, Wrangler and many more. The store also carries footwear and accessories, and features a rewards program for the benefit of shoppers.
"We are dedicated to making the life of the hard working nurse, chef, lab technician or service employee more comfortable by helping them obtain the proper work clothing in an environment of superior customer service," said Feury, adding that the store will offer on-site embroidery for adding a name and specialty or organization to purchased items.
The store features work uniforms and apparel such as medical clothing (including scrubs in a wide variety of patterns and colors), restaurant uniforms, rugged safety clothing and work wear for hospitality, public safety, automotive industry and more. From bibs and coveralls to shirts, vest sweaters, lab coats, aprons, and more, Work Hard Dress Right features workwear for men and women from top manufacturers such as Prestige Medical, Bulwark, Uncommon Threads, Dickies Industrial, Peaches, Red Kap, Chef Works, Lee and others.
For more information about the New Haven location, see the company Facebook page (facebook.com/WHDRonline) or online store at http://www.workharddressright.com.
About Work Hard, Dress Right
Work Hard Dress Right and WorkHardDressRight.com provide a comprehensive shopping experience for professionals seeking durable, comfortable and stylish work apparel for a wide array of industries. With a flagship store in New Haven, CT, and easy online shopping through WorkHardDressRight.com, professionals everywhere have access to great looking work uniforms.
Work Hard Dress Right is a division of Feury Image Group. The Feury brand also includes FeurySafety.com, a provider of workplace safety apparel for workers in the chemical, oil, gas, mining, petrochemical and electric industries; and Feury Custom, a leading supplier of custom uniforms, uniform programs, and promotional and brand wearables.
Founded in 1995, Feury Image Group (http://www.feuryimagegroup.com) is a premier provider of marketing services, branding and corporate identity, headquartered in Newark, NJ. Feury Image Group also includes Feury Motion, offering photography, film production, post production services; and Feury Ink, providing offset, digital and large format printing capabilities