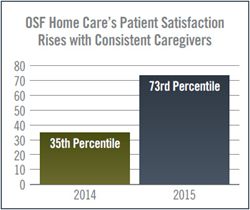 Culture is often times the last initiative that is employed, when it should be the first
San Diego, CA (PRWEB) July 31, 2015
In just 13 months, OSF Home Care improved patient satisfaction scores from the 35th percentile to the 73rd percentile, a topic discussed in a client story here. Using the culture change approach provided by Partners In Leadership, OSF experienced a dramatic transformation in organizational culture, something Partners In Leadership has helped thousands of clients do for over 25 years.
"After having worked with many healthcare and hospital organizations that struggled with improving their patient experience, we reached the conclusion that most change efforts rely exclusively on 'tactical behavior' to drive change, while ignoring the cultural undercurrents eroding the tactical strategy," said Tanner Corbridge, Business Unit President of Partners In Leadership. "In other words, most change management efforts that touch the patient experience rely heavily on checklists, complex action plans, and new SOPs—and more times than not, they end up not sticking."
In 2014, OSF Home Health was nearing the end of its second year as a Pioneer Accountable Care Organization. Their patient satisfaction and quality metrics had been stagnant for years. Costs were high. Patients rarely saw the same nurse twice and OSF primary care physicians had no relationship with Home Health—even when the two organizations shared patients. Patient satisfaction languished in the 35th percentile.
OSF Home Care Services President & CEO AJ Querciagrossa felt that "the results that we were delivering were simply awful," and decided that a change was needed throughout the organization. Querciagrossa got into contact with Tanner Corbridge and Jared Jones, two of Partners In Leadership's Business Unit Presidents who have a history of working with various hospital groups and healthcare providers. Over the next 13 months, they worked diligently with OSF to completely change the company culture and improve their patient satisfaction score to the 73rd percentile.
"Culture is often times the last initiative that is employed, when it should be the first," said Jared Jones. "Your culture is always working, 24/7; it never takes a holiday, goes to lunch, or calls in sick. It is always working, sending cues to people about how they should think and act at work—telling them what they should work on and how they should work on it. If you don't manage your culture, your culture will manage you."
Review the full OSF Home Care story here.
Learn how cultural transformation can help your organization by reviewing Partners In Leadership's Change Methodology.
About Partners In Leadership
Partners In Leadership® (PIL) is the world's premier provider of Accountability Training® and Culture Change training and consulting services. PIL has enabled thousands of companies and millions of people in more than 100 countries worldwide to achieve dramatic results, reporting billions of dollars in improved shareholder wealth, saving hundreds of thousands of jobs— resulting in some of the highest praised and best places to work in the world.
Partners In Leadership and Accountability Training are all registered trademarks of Partners In Leadership, Inc. All other registered trademarks and trademarks used herein are the property of their respective owners.