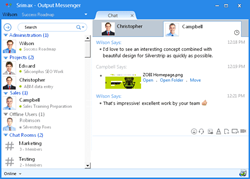 Give your team the freedom to chat, talk, share and interact together from anywhere, on any device!
Sivakasi, India (PRWEB) April 24, 2015
Srimax Software System Private Limited has today officially announced the release of their new software, Output Messenger, designed specifically for secure communication within office. With over 10 years of experience behind instant messaging technology (old product OMessenger) and with a team of seasoned professionals, we have built Output Messenger from scratch using up to date tools. The software is endowed with many important additional features and enhancements in a completely new environment, as stated.
Output Messenger is comprehensive corporate instant messenger software, bringing together instant messaging (IM), audio and video calls, online meetings, availability (presence) information, and sharing capabilities, all from one easy-to-use program. This LAN chat software's features are designed specifically for in-house employees, multiple offices, remote teams and clients to collaborate efficiently and safely. This LAN Messenger allows secure chatting between employees without the threat of third party exposure while helping maintain the company's security compliance policies.
Key Features:

One-to-One Private Chat
Group Chat, Chat Room, Chat Group
File Transfer
Voice Call and Conferencing
Video Call and Conferencing
Remote Desktop Screen Sharing
Announcement
Internal Mailing
Sticky Notes
Remainders
This Office Messenger includes robust features like Offline messaging, Off The Record Chat (OTR), Multiple Window Views, Chat Shortcuts, Preset Messages, Message Logging, Cross Platform Sync, Active Director Integration, API for 3rd Party Integration, Delivery Notification, Push Notification for Mobile that take office chat and collaboration to a new level.
Improved Communication without Productivity Loss: The Network Messenger features are tailor-made to improve collaboration between team members to work together more efficiently by sharing knowledge, ideas and information. Ultimately, through the integration of this tool, an increase in productivity in the workplace and a rise in the overall quality of work within the organization can be achieved.
Safer Communication & Effective Transfer of Confidential Information: The On Premise Chat Server application guarantees security, speed and keeps sensitive data within offices. Chat Server and Chat Client are fully customizable for maximum flexibility to get the software to work according to individual preferences. The use of Encrypted TLS/SSL establishes a highly secure client to server connection to help provide data confidentiality and integrity between the client and the server. The software works within Office LAN, WAN, VPN, Multiple Sub Networks, Terminal Service and Internet. Messages logs will self-destruct after a preset period of time and can be archived for auditing purposes.
Reduces Operational Costs Besides Elimination of Distance Barrier: Output Messenger empowers office communication with its cutting edge, cross-platform technology available on Windows, Linus, MAC and app for Android, iOS Smart Phones & Tablets, allowing communicating with colleagues from any device anytime, anywhere. Conversations are immediately synced across all devices and platforms allowing users to seamlessly carry their chat sessions on the go.
Quick Installation: Both Client and Server applications are extremely easy to install and configure without the need for an onsite network administrator. Please download the fully functional, 30 days' trial of the Software.
Output Messenger can build stronger relationships at work and can enrich the communication style and work forever.
Team Srimax
http://www.outputmessenger.com