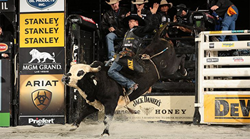 "In fact, Ticket-goers will be able to spot Patten Cat's compact track loader hard at work during the Chicago Invitational," said Hofmeyer.
Elmhurst, IL (PRWEB) January 10, 2015
Professional Bull Riders, Inc (PBR) was established in 1992 by a small group of bull riders and has grown to a sport that attracts up to 1 million live event attendees each year. Because of this success, the partnership between Caterpillar and the PBR began in 2013. 2015 will be the third consecutive year Cat is the exclusive heavy equipment provider for the PBR's Built Ford Tough Series.
When the PBR returns to Allstate Arena for the 2015 Chicago Invitational, Cat machines supplied by the Patten Cat Rental Store, will be on hand to ensure the stage is set and ready for the ultimate bull riding experience. The two-day event on January 10 and 11, features 30 of the Top PBR bull riders hanging tough for their chance to win the title.
Patten Cat, the local Caterpillar heavy equipment dealer, is excited that Caterpillar corporate has signed on as a sponsor of the 2015 Professional Bull Riders series. "There are between 5-8 pieces of Cat equipment involved in each event and we are proud to showcase this equipment and our equipment capabilities," said John Hofmeyer, Rental Manager at the Patten Cat Rental Store.
The workhorse of the PBR show is the Cat 289D compact track loader (CTL). Since there are dozens of rides during each evening of a PBR event, the CTL is brought out o clean up the arena to maintain an even playing field for the bulls and bull riders. The 289D will be used with a Cat multi-purpose bucket attached. Cat multi-purpose buckets are extremely durable buckets, idea for a wide variety of tasks in construction, landscaping, industrial and demolition applications.
"In fact, Ticket-goers will be able to spot Patten Cat's compact track loader hard at work during the Chicago Invitational," said Hofmeyer.
Equipment experts from Patten Cat will be at the PBR event inside the Caterpillar booth to answer questions about any of the machines used to set up the Allstate Arena. Follow our PRB journey online at Pattencat.com.
About Patten Cat: Patten Industries, Inc. (Patten Cat) is the authorized Caterpillar® dealer for 17 Counties of Northern Illinois and 2 Counties in Northwest Indiana. Our goal is to provide you with premium products and solutions at a great value in order to make you successful and maximize your uptime. Patten Cat is headquartered on a 20-acre campus in Elmhurst, IL, with branch locations in Joliet, Oglesby and Rockford, IL as well as Hammond, IN. Our four divisions, Patten Construction Products, Patten Power Systems, Patten Truck Centers and Great Lakes Equipment Co. offer support for over 20 different industries.
About PBR: Headquartered in Colo., the Professional Bull Riders, Inc. was created in 1992 when a group of 20 visionary bull riders broke away from the traditional rodeo scene seeking mainstream attention for the sport of professional bull riding. The combination of raw sport and quality entertainment has propelled the PBR to strong growth in live attendance as well. In 1995, 310,000 fans attended PBR events across the nation. Today the PBR attracts over 1.5 million live event attendees each year with its multi-tiered event structure. Professional bull riding is a fierce, rough, and grueling sport with roots deeply imbedded in American culture. It's America's original extreme sport.
###