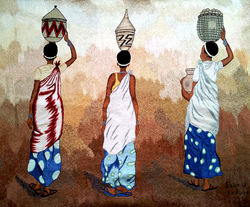 What if war came to your doorstep and took everyone and everything you had? Pax Rwanda shows how a small group of women who had war and genocide thrust upon them chose to make something of beauty to help them survive and live again.
Bogota, New Jersey (PRWEB) May 18, 2015
Juliana Meehan, the curator of Pax Rwanda: Embroideries of the Women of Savane Rutongo-Kibuye, announces a unique collection of embroidery art available for exhibit and sale.
In 2012 Juliana Meehan, a New Jersey teacher, visited Rwanda, East Africa. She discovered a shop called Mode Savane, which sold local handmade embroideries that were more intricate and unlike any embroidery she had seen before. This was the start of her unique collection and humanitarian effort, helping a group of struggling artists. For the artists, mostly war widows, their only lifeline was selling their work at the shop.
It all began with the owner of Mode Savane, Christiane Rwagatare, who learned the art of embroidery while attending a business college in Romania. Between 1990 and 1993, a brutal civil war in Rwanda that culminated in the 1994 Genocide Against the Tutsis claimed the lives of more than 800,000 men, women, and children. Rwagatare had escaped the war and returned to Rwanda in 1994 after the genocide to open a small tailoring business and craft shop.
Soon women who lost most or all of their families during the war and genocide were trying to sell their needlework as a means to survive. Noticing that the individual embroiderers could only work on small linens and tablecloths, Christiane organized the women into a workshop where they began working in unison to create larger commercially viable embroideries.
Working in a rundown building in the small village of Rutongo near the capital, Kigali, the group of artisans called themselves "Savane Rutongo," combining their village name and the name of Rwagatare's shop. Juliana Meehan mentioned, "The team leader was just about to get married when her young man was killed in the genocide. Other artisans are widows, some of them have men in prison, and now they work together to feed their children and their grandchildren." In recent years they moved their workshop to the city of Kibuye, and changed their name to Savane Rutongo-Kibuye in honor of their roots.
These artists use an unusual technique of blending three colored threads onto one embroidery needle, producing high quality works with unique colors, shading, and textures rarely seen outside of European tapestries. Each piece depicts culturally rich scenes of everyday life or the animals of Rwanda. All of the designs are hand sketched in pencil on fabric, and then various artisans fill in the picture with masterful embroidery. Each work is unique and 100% hand stitched, requiring more than three months of meticulous effort.
Meehan's exhibit features these museum-quality embroideries from her personal collection, with selected pieces offered for sale as a way to continue supporting the work of the Savane Rutongo-Kibuye workshop. According to Meehan, "I have exhibited their works at several venues in the New York metropolitan area and in Washington DC. These are self-taught artists who deserve recognition."
Pax Rwanda: Embroideries of the Women of Savane Rutongo-Kibuye is available for exhibition at museums and civic and private art spaces throughout the United States. Each piece is mounted and ready for hanging, and original legends and full-color explanatory posters.
About the Curator - Juliana Meehan
Juliana is a teacher of English with more than 15 years of experience teaching literacy to students from grades 5 through 12. She holds degrees in English literature and anthropology, as well as New Jersey reading, supervisory, and provisional principal's certifications. She is also Co-adviser of the Citizens of the World Club, a student group that is devoted to learning what it means to be a global citizen, connecting with others around the world, and taking action for social good.
For information on booking an exhibit, please contact:
Juliana Meehan
Telephone: (201) 968-1338
Email: RutongoArts(at)optimum(dot)net
Rutongo Embroideries LLC
http://www.rutongoembroideries.com