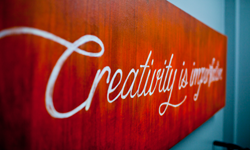 PP+K is living up to its motto, 'Unite and take over.'
Tampa, Florida (PRWEB) January 28, 2015
With a refreshed interior and redesigned website, PP+K, a leading full-service advertising agency and production company, announced the celebration of its 11-year anniversary. Rather than plan a traditional party, the Tampa-based advertising agency instead opted to celebrate over a decade of success by giving back to its employees through an office revamp.
"The one thing that resonates with clients and visitors of PP+K is the energy of our team and our company culture," says Tom Kenney, Executive Creative Director of PP+K. "We wanted to bring that out even further through this remodel."
PP+K set its vision for the renovation, and worked closely with Jill Lifsey of District Designs, a Tampa-based interior design company, to plan the new space accordingly.
The digital team at PP+K also worked together to launch a new, updated website that showcases all of the services offered by the Tampa-based advertising agency and provides its visitors with easy-to-navigate pages.
"I am blown away by how far we've come over the past decade," says Kenney. "From a small, seven-person agency to a thriving business made up of 45 brilliant minds, PP+K is living up to its motto, 'Unite and take over.'"
PP+K recently kicked off the New Year with 13 awards in the Graphis Advertising Annual 2015 competition and several new business wins. To view PP+K's latest works and updated website, please visit http://www.uniteppk.com.
About PP+K
PP+K is a Tampa-based, full-service advertising agency and production company that helps clients develop creative solutions to business challenges. From initial concepts to final placements, PP+K specializes in the full spectrum of development, deployment and testing.