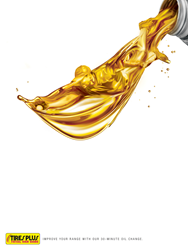 It's an honor to be given the Best of Show Award for our work
Tampa, Florida (PRWEB) February 27, 2015
PP+K, a leading full-service advertising agency and production company, today announced that it brought home 21 honors, including the prestigious Best of Show Award, from the AAF- Tampa Bay's ADDY Awards Gala.
'Game-Changers,' a print campaign created for Tires Plus by Art Director Trushar Patel, Copywriter Nick McMurdy, Account Supervisor Jess Vahsholtz and Executive Creative Director Tom Kenney, was awarded a Gold ADDY and a Best of the Bay Award under the category of Consumer/Trade Publication, and was honored with Best of Show, awarded to the most outstanding piece of work of all the entries at the local Tampa Bay level.
"It's an honor to be given the Best of Show Award for our work with Tires Plus," says Tom Kenney, Executive Creative Director of PP+K. "We're very excited to move on to the district competition to compete for a spot at the national level."
The Tampa-based advertising agency also won 12 Gold ADDYs for a variety of works, including 'Shark Week For Real,' 'Fish Football,' 'Shark Versus Referee,' 'Airport Shark Plane,' and 'Sand Tiger Shark Teeth' (The Florida Aquarium), 'Beehive Tire' and 'Hourglass' (Tires Plus), 'Buffering Agony' and 'First Dance' (Bright House Networks), 'No Place For A King' and 'Bloody Abuse' (Big Cat Rescue) and 'We're Different Too' (GTE Financial). PP+K also took home three Silver ADDYs for 'FaceTime Bomb' (Bright House Networks) as well as 'Close Encounters Of The Shark Kind' and 'Python Takes Over A Billboard Teaser' (The Florida Aquarium).
Of these winning pieces, 'We're Different Too' (GTE Financial) and 'Sand Tiger Shark Teeth' (The Florida Aquarium) were given Best of the Bay Awards in the categories of Radio and Advertising for the Arts & Sciences, respectively. 'Bathroom Door Signs,' a piece created for Brew Detroit, was also awarded the Judges' Choice Award for Humor.
The winning pieces will now move on to compete in the district level competition in Orlando, Fla. for a chance to be forwarded to the national stage of the American Advertising Awards in Las Vegas, Nev.
About PP+K
PP+K is a Tampa-based, full-service advertising and production company that helps clients develop creative solutions to business challenges. From initial concepts to final placements, PP+K specializes in the full spectrum of development, deployment and testing.
About AAF – Tampa Bay
The American Advertising Federation – Tampa Bay exists to support its members, the community and the advertising industry. Its mission is to promote fellowship, education and career enhancement among members of the advertising community; foster and recognize excellence in advertising; champion public service causes; build an understanding of the role and benefits of advertising at all levels; and encourage advertising self-regulation and continuous improvement to raise industry benchmarks.