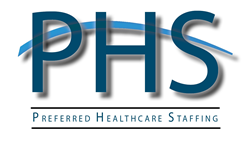 San Diego, California (PRWEB) August 26, 2015
Preferred Healthcare underwent a rigorous on-site review in August 2015. Joint Commission experts evaluated compliance with national standards that assess how healthcare staffing firms determine the qualifications and competency of staff, placement of staff, and how they monitor performance. All certified healthcare staffing organizations are required to collect data on their own performance.
Healthcare staffing firms place temporary staff in organizations that direct or provide patient care. Established in October 2004, Healthcare Staffing Services Certification, awarded for a two-year period, offers an independent and comprehensive evaluation of a staffing firm's abilities to provide competent staffing services.
"Preferred Healthcare has thoroughly demonstrated its commitment to providing and continuously improving quality services," said Michele Sacco, M.S., executive director, Palliative Care and Healthcare Staffing Certification, The Joint Commission. "We commend Preferred Healthcare for becoming a leader in healthcare staffing, potentially providing a higher standard of service."
Preferred Healthcare is pleased to receive certification from The Joint Commission, the premier quality improvement and accrediting body in the nation," added Barry J. McDonald, COO, Preferred Healthcare. "Healthcare Staffing Certification demonstrates commitment and accountability to our clients and the healthcare professionals we employ. Certification establishes, defines and measures delivery on key functional areas and performance measures across the entire industry."
****The Joint Commission
Founded in 1951, The Joint Commission seeks to continuously improve healthcare for the public, in collaboration with other stakeholders, by evaluating healthcare organizations and inspiring them to excel in providing safe and effective care of the highest quality and value. The Joint Commission accredits and certifies nearly 21,000 health care organizations and programs in the United States. An independent, nonprofit organization, The Joint Commission is the nation's oldest and largest standards-setting and accrediting body in health care. Learn more about The Joint Commission at [http://www.jointcommission.org.