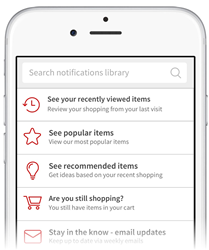 Browser push notifications will forever change how merchants engage with shoppers.
(PRWEB) May 27, 2015
Rately for Merchants is now TargetGenius - and announces the availability of state of the art browser push notification capabilities for ecommerce retailers.
TargetGenius helps retailers use new notification capabilities in web browsers (Chrome, Safari) to create a more engaging, personalized, and productive shopping experience.
When shoppers visit an ecommerce site, they're asked to "follow" a retailer to receive special, personalized notifications. The shopper then receives highly personalized messages both while shopping and even after leaving the site or closing the browser.
Here are just a few examples of how a retailer might use site banners and (push) notifications from TargetGenius:
Let shoppers know that a viewed or tagged item has a lower price
Tell shoppers that a viewed or tagged item is "trending" or a "hot seller"
Deliver a promotion for an item that's been viewed / tagged
Connect shoppers to relevant content in social media
Remind shoppers of items left in their shopping cart
TargetGenius can be set up in less than 15 minutes and comes with a library of notification ideas that can be quickly tailored to the voice of the retailer. Tom and Bob Klein, identical twins and owners of TargetGenius, noted, "Browser push notifications will forever change how merchants engage with shoppers. TargetGenius automates the delivery of individual level personalized messages to shoppers, without requiring an email login."
Interested retailers can see TargetGenius at work at Alpharetta Outfitters, an ecommerce store running on the Bigcommerce® platform. Retailers should contact TargetGenius at http://TargetGenius.com to learn how easy it is to sell products with notifications - even after a shopper has left the site.
ABOUT TARGETGENIUS
TargetGenius is the easiest way to sell with notifications - even after a shopper has left an ecommerce site. TargetGenius springs from the minds of Digital Scientists, an Alpharetta, GA based company that specializes in digital shopping innovation. Learn more about TargetGenius at http://TargetGenius.com and learn more about Digital Scientists at digitalscientists.com
# # #