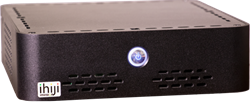 The new APP-2000 brings even more power to ihiji Invision remote network management tool.
Austin, TX (PRWEB) March 25, 2015
iihiji has upgraded the APP-2000 network management appliance adding a significant performance boost to the already robust ihiji invision SaaS remote networking solution.
ihiji is the leading provider of remote network and device management solutions for integrators and technology professionals. Today, the Austin-based company is launching their latest secure network management appliance, the ihiji APP-2000. This new model adds important enhancements and performance to the robust security and reliability that customers have come to expect from ihiji Invision SaaS tool.
Network Management for the Internet of Everything
Shipping in early April, the ihiji APP-2000 provides highly secure, centralized access to Integrator client networks when coupled with the award winning ihiji invision cloud-based software service. Integrators of audio visual, automation and security systems manage their network devices via ihiji invision as part of a managed services package. As more and more devices related to the Internet of Things (IoT) attach to the network, ihiji solutions have proven to be vital for technology professionals in lowering their operating expenses and in generating subscription-based recurring revenue.
Deliver Network Management Services to Your Clients
Using the ihiji APP-2000 with the cloud-based ihiji Invision solution, integrators and technology professionals can securely gain access to key indicators related to the performance and health of their clients' networks and devices. Alerts delivered according to predetermined thresholds allow the administrator to take preemptive action to avert a potential device or network failure, quite often without rolling a truck. ihiji enables integrators to provide their clients exceptional service, which includes the uninterrupted and optimized performance of networks and network devices. Succinctly, ihiji offers integrators a better way to own the network in the home and small business.
Better Model - Same Price
Pricing on the improved APP-2000 will remain the same as the soon to be discontinued APP-1100. Additionally there is an introductory special on the ihiji APP-2000 for all orders placed by April 1, 2015 representing a 10% savings on hardware. This offer will be especially appealing to dealers who like to keep ihiji appliances on hand and ready to be connected with each of their installs. To learn more about the undeniable benefits of the remote network management tool, ihiji invision, the new ihiji APP-2000 or the special pricing offer, please schedule a live demonstration with Alex at alexj(at)ihiji(dot)com or call 512.538.0520. Additional information on the new APP-2000 networking appliance is available on ihiji.com and @ihiji on Twitter.
About ihiji
ihjii (eye-hee-jee) provides SaaS solutions which empower integrators and technology professionals to cost effectively deliver remote network management services to their clients. The tools allow for efficient management of the network and devices which make up the The Internet of Things(IoT) inside the modern home and office. These solutions reduce site visits and enable ihiji resellers to create a recurring revenue stream for their business. Their clients benefit with improved network performance and uptime, along with less service and support headaches. A global solution provider, the privately held company is based in Austin, Texas. To learn more, visit http://www.ihiji.com or on twitter @ihiji. If it has an IP...ihiji.
ihiji Media Contact
Katye (McGregor) Bennett | KMB Communications, Inc. | (406) 446-1283 | Katye(at)kmbcomm(dot)com |http://www.kmbcomm.com/press | @kmb_comm