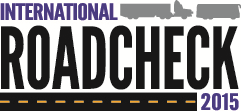 CVSA's International Roadcheck is the largest targeted enforcement program on commercial motor vehicles in the world, with nearly 17 trucks or buses inspected, on average, every minute, over three days.
Greenbelt, Maryland (PRWEB) September 29, 2015
On June 2-4, 2015, commercial motor vehicle inspectors across North America completed 69,472 truck and bus inspections during International Roadcheck 2015, the annual 72-hour enforcement and safety outreach event carried out by members of the Commercial Vehicle Safety Alliance (CVSA).
Of the 69,472 total inspections, 44,989 were North American Standard Level I Inspections, which is the most thorough roadside inspection. Of Level I Inspections, inspectors found 1,623 or 3.6 percent of drivers and 9,732 or 21.6 percent of vehicles with out-of-service (OOS) violations, historically the lowest rates for which CVSA has data, back to 1991. Of all inspections, 777 seatbelt violations were issued.
Level I Inspections include a 37-step procedure that involves an examination of both the driver's record of duty status and the safety of the vehicle. Drivers are required to provide items such as their license, endorsements, medical card and hours-of-service documentation, and are checked for seat belt usage and the use of alcohol and/or drugs. The vehicle inspection includes checking items such as the braking system, cargo securement, coupling devices, exhaust system, frame, fuel system, lights, safe loading, steering mechanism, suspension, tires, van and open-top trailer bodies, wheels and rims, windshield wipers, and emergency exits, electrical cables and systems in engine and battery compartments, and loose or temporary seating on buses. Other inspections conducted included Level II walk-around, Level III driver-only, and Level V vehicle-only inspections.
Each year, International Roadcheck places special emphasis on a category of violations. The special emphasis for International Roadcheck 2015 was cargo securement. While checking for compliance with safe loading regulations is always part of roadside inspections, CVSA highlighted cargo safety as a reminder to drivers and carriers. The proper loading and securing of cargo on vehicles is a matter of public safety. For many types of loads, particularly those that are not sealed or otherwise inaccessible to the driver, regulations require the driver to stop within the first several miles of a trip and recheck the tie downs and other load-securing equipment.
During International Roadcheck 2015 a special emphasis was placed on reminding carriers about and enforcing regulations on proper load securement. During the event, inspectors issued 2,439 violations for load securement. The leading load securement violations, by number of violations issued, were: (1) failure to prevent shifting/loss of load; (2) failure to secure truck equipment (tarps, dunnage, doors, tailgates, spare tires); (3) damaged tie downs (typically unacceptable wear on chain or cuts and tears on web straps); (4) insufficient tie downs; and (5) loose tie downs. Load securement enforcement is a normal part of Level I Inspections, but securing cargo and equipment are vital to safe operations.
"CVSA's International Roadcheck is the largest targeted enforcement program on commercial motor vehicles in the world, with nearly 17 trucks or buses inspected, on average, every minute, over three days," said CVSA Acting Executive Director Collin B. Mooney, CAE. "However, we must remember that the work done over that 72-period represents only a fraction of what's accomplished every day by approximately 13,000 CVSA-certified local, state, provincial, territorial and federal inspectors at hundreds of inspection locations across North America. They work every day to keep our roads safe by performing the same truck, bus and driver inspections conducted during International Roadcheck."
"Commercial vehicle inspectors are highly trained, dedicated professionals whose sole focus is protecting the safety of everyone traveling on our highways and roads," said FMCSA Acting Administrator Scott Darling. "The annual Roadcheck event is just one example of a continuing strong partnership among local, state and federal safety enforcement personnel. It also serves as a valuable reminder that when it comes to commercial vehicle safety, everyone has an important role to play. We must give large trucks and buses extra space to maneuver, avoid lingering in blinds spots where you can't be seen, never allow ourselves to become distracted drivers, and never drink and drive."
Since its inception in 1988, International Roadcheck inspections have numbered more than 1.4 million, resulting in an estimated 334 lives saved and 6,134 injuries avoided. International Roadcheck is sponsored by CVSA, North America's leading commercial vehicle safety-enforcement organization, with participation by the Federal Motor Carrier Safety Administration, Canadian Council of Motor Transport Administrators and the Secretariat of Communications and Transportation in Mexico.
Visit http://www.cvsa.org/programs/int_roadcheck to learn more about International Roadcheck.