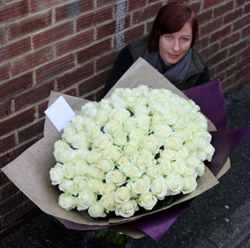 London, UK (PRWEB UK) 11 February 2015
Valentines flowers delivery by Flowers24Hours promises to create a stir this winter, with some of the London florists hottest, breathtaking romantic flower bouquets yet. These blossoming arrangements are making a colourful debut at just the right time of the year. It is exciting, no question, to see how London couples will receive the latest flower designs, ranging from the more elaborate and grandiose bouquets to the smallest but, undoubtedly, most poignant of flower masterpieces.
The top florists and floral designers at Flowers24Hours have their carefully trained eyes on what makes the best romantic flower bouquets. For this Valentine's Day Flowers24Hours has decided to incorporate a number of different blossoms, textures and colour patterns. Almost like love itself, unexpected and exhilarating, or the perfect comfort when most needed, a valentines floral arrangement can play on what's traditional in a romantic flower bouquet as well as delight and surprise through something that's a little edgy, a bit more unconventional and just as delightful. In any case, anybody that wants to send a bouquet of flowers will be pleased with this selection.
Romantic Bouquets: Traditional, Sweet and Alternative
It's easy to imagine flower bouquets and arrangements falling into three general kinds of categories—traditional or classic, sweet, and alternative. Swan Lake white roses and Queen Catherine red rose bouquets are as classic as it gets—there's only one message, I love you—and Flowers24Hours arranges a lavish, fragrant bouquet which balances the monochrome palette—red or white—of either arrangement with leaves and foliage that are bright or lighter green. Valentine gifts for her can also be sweet (and not just when it comes to chocolates) and sent to a romantic partner as well as a good friend. This type of valentines flowers delivery utilizes flowers besides the iconic, passionate rose, and a variety of blossom types and colours. Phalaeonopsis Orchids are an elegant, demure flower—simple and sweet—as a valentines floral arrangement. The Innocence hand-tied bouquet is a popular white and green two-tone bouquet made up of pristine white lilies. It's a gorgeous option for all of those searching around for just the right valentines flowers for mom.
Flowers24Hours also takes pride in creating amazing alternative romantic flowers arrangements—these bouquets use different blossom combinations, colours and abstract shape for an effect that is nothing less than spectular. The Kyoko bouquet stands as a striking example, in a vase, combining pale shaded orchids and roses, flowers that stem from east and west, in a contrast that is exotic and enticing. Dreaming Beauty, like the Kyoko, touches on elements of the mysterious, achieved by soft rose petals and fabric wrapping merged with sharper leaves, though its eye-catching effect relies primarily on the captivating sensuality of the red valentine roses. Cuter arrangements like Potted Gerberas or Magic in a box—a single magnificent white rose—are great for close friends and coworkers, or specially sent through Flowers24Hours valentines free delivery. Of course, the London florist tempts clients at the end, mentioning anyone may wish to sweeten the deal with a box of gourmet chocolates…