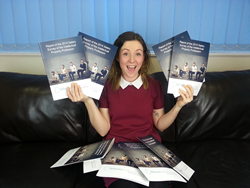 The survey is now in its fourth year and, as always, we have received a tremendous amount of support and witnessed a significantly high level of participation.
London (PRWEB UK) 21 April 2015
Recruitment firm Fellows and Associates have released their latest salary survey of the UK Intellectual Property sector. For the first time in the history of the survey (now in its fourth year) there is a minimal gap between genders. Other key findings include: 81% of respondents receive 25 days holiday or more per year; as the economy has improved less respondents are keen to relocate within the UK or internationally than in previous years; and respondents' opinions of financial security have not changed significantly from 2014 to 2015.
The survey organised by Fellows and Associates, who are an established recruitment and management consultancy working solely in the Intellectual Property sector, aims to offer a level of clarity of the working terms and conditions available to professionals in differing technical specialisms, locations and across a range of expertise.
"The survey is now in its fourth year and, as always, we have received a tremendous amount of support and witnessed a significantly high level of participation" Michele Fellows, director at Fellows and Associates and key driver behind the survey, enthused. "It can be incredibly difficult for those working in the IP sector to understand how they compare to their peers in relation to their salary and we hope that our survey can help give them some indication on where they stand".
The survey is currently available on the Fellows and Associates website and will be published in the CIPA Journal and ITMA Review in the coming months. "We are extremely proud that our survey has earned the respect and support of such credible industry publications and their involvement will most certainly ensure that the survey is available to the majority, if not the entirety, of our target audience" Michele continued. Another way in which the Fellows and Associates' team has secured the survey's high ranking amongst its competitors is the reliability of the data. "The survey is based on information collected directly from the source, rather than guidelines provided by internal HR departments, meaning that the results are arguably more accurate and can help present a clearer reflection of true market averages" Michele explains.
It has been a busy time for Fellows and Associates. Further to the release of their latest salary survey, they have announced that they have grown their team with the upcoming addition of a new researcher, Louisa Stokoe. Louisa will be responsible for assisting in the day-to-day management of the office and will be a key player in the company's future growth, both in the UK and overseas. "It is a very exciting time for us" says consultant Phillipa Field. "We have become increasingly busy over the past few years and we decided that an additional team member would really help us in continuing to provide an excellent service to our current clients and candidates, as well as allowing us the time to build our brand even further through investigating potential new business ventures."
The team are preparing for the arrival of their latest team member next month, however in the meantime they also have the INTA Annual Meeting in San Diego to look forward to. "The Annual Meeting is an integral date in the Fellows and Associates' calendar and this year is no different" says Pete Fellows, managing director. "The next few months will see us catching up with our friends and making new contacts in San Diego before heading home and continuing to offer an exceptional service to our clients and candidates, with the help of our new recruit".
About Fellows and Associates
Fellows and Associates recruit Patent Attorneys, Trade Mark Attorneys, IP Lawyers and other Intellectual Property professionals worldwide. The firm offers a diverse range of recruitment services including search, advertised selection and managed campaigns. Fellows and Associates' management consultancy division offers targeted strategic advice to firms within the Intellectual Property sector worldwide. See http://www.fellowsandassociates.com for more, phone +44 207 903 5019 or email contact(at)fellowsandassociates(dot)com.