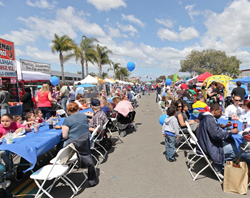 A great family outing.
San Marcos, CA (PRWEB) March 25, 2015
Each year the San Marcos Chamber of Commerce Street Festival kicks off the local North County San Diego festival season. Known locally as the "don't miss" premier event of the past 30 years, this year's festival will be held on Sunday, April 12, 2015, between the hours of 9:00 a.m. and 5:00 p.m.
Historically the San Marcos Chamber of Commerce Spring Event has drawn up to 20,000 locals. Attendees come from communities along the Coast Highway from Camp Pendleton to Solana Beach and Inland from Temecula to Escondido and beyond. The annual spring event is also listed by tourism websites and in southern California digital event calendars. Among San Marcos residents, the event remains one of the most frequently talked about favorites.
It's a great family outing. Adults enjoy the fresh air, food and shopping while the kids are entertained by the sights and sounds. Participating businesses traditionally enjoy the chance to mingle face-to-face with the buying public. Whether local residents or out-of-state travelers the crowd enjoys seeing crafts, jewelry, art, photos, frames, coins, clothing, beachwear, food, fashion, toys, books, gadgets, and anything else that's fun, fabulous and fascinating. Returning businesses say it's a prime place to economically and efficiently heighten community awareness, speak directly to consumers and jump start the season.
Whether you are a local business or you present at local fairs from coast-to-coast as a professional vendor, you'll be sure to ring up sales and peak consumer awareness. Your business can successfully use the Spring Festival to inform the crowds about your volunteer and fundraising opportunities, offer a round of golf, serve up a restaurant delicacy or speak to individuals with a passion for health, fitness and sports. Those hoping to remodel homes, upgrade to solar windows or install a new roof have reported success as well. If your business lends itself to the areas of pets and babies, you will certainly be popular with the crowds.
Signup to book space now. For further details contact the San Marcos Chamber's event coordinator, Liz with Artist Eye Events, 760-672-8842 or at: artisteyeevents(at)cox(dot)net