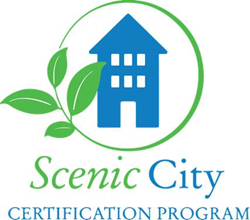 "Earning Scenic City certification drives smart planning which makes good business sense."
Houston, Texas (PRWEB) July 15, 2015
Twenty (20) Texas municipalities have been awarded Scenic City Certification by the Scenic City Certification Program of Scenic Texas in 2015. Seven are certified for the first time, and 13 are re-certifying their status, bringing the total certified cities in Texas to 58.
The Scenic City Certification Program is the first of its kind in the United States to incorporate a comprehensive set of model standards for design and development of public roadways and public spaces into a cohesive assessment program. Cities apply to the program for a rigorous evaluation and scoring of existing municipal standards against the model. Those with the highest evaluation scores earn certification. Cities that qualify earn a five-year certification.
"Scenic City Certification demonstrates a City's commitment to improving quality of life, fostering civic pride, encouraging a sense of place, and boosting economic development," said Claudia L. Williamson, Director of Business Development, PGAL and Chair of the Scenic City Advisory Council. "Earning Scenic City certification drives smart planning which makes good business sense."
"Our city works very hard to formulate standards that place us in the best position for both quality of life and economic development" said Georgetown Planning Administrator Karen Frost. "Achieving Scenic City Certification validates that we are getting it right." Georgetown, first certified in 2010, was re-certified this year.
Cities earning first-time certification or recertification in 2015 include:
Bastrop
Belton
College Station
Cuero
Georgetown
Granbury
Grapevine
Horseshoe Bay
Irving
Magnolia
Missouri City
Nassau Bay
Pflugerville
Pilot Point
Prosper
Sealy
South Padre Island
Sugar Land
Westlake
West Lake Hills
A reception to present these 20 municipalities with their Scenic City Certification will be held on Thursday, September 24, 2015 at The Grand Hyatt in San Antonio, during the Texas Municipal League's Annual Conference Week.
The Scenic City application process for the 2016 round of Scenic City evaluations opens January 1, 2016. Any Texas municipality may submit an application online before March 31, 2016. For more information, visit http://www.sceniccitycertification.org.
The Scenic City Advisory Council includes representatives from Texas Municipal League, Urban Land Institute – Houston, American Planning Association-Texas Chapter, Houston-Galveston Area Council, American Council of Engineering Companies Houston, Keep Texas Beautiful, North Central Texas Council of Governments, Texas Downtown Association, Texas Historical Commission, Scenic Houston and Scenic America.
###
Scenic Texas is a 501(c)3 non-profit organization dedicated to preserving and enhancing the visual character of Texas. We promote enhanced design standards for public projects, sign regulation, freeway landscaping and scenic byway development. Visit http://www.scenictexas.org.
TEXAS CERTIFIED SCENIC CITIES
*Indicates a city that has increased its level since initial certification
Platinum
Fairview (2011-2016)
Flower Mound (2014-2019)*
Frisco (2011-2016)
McKinney (2013-2018)
Missouri City (2015-2020)*
Plano (2012-2017)
Richardson (2012-2017)*
Roanoke (2011-2016)*
Rockwall (2013-2018)
Gold
Belton (2015-2020)
Benbrook (2011-2016)
Buda (2011-2016)
Cedar Hill (2011-2016)
Cedar Park (2012-2017)
Dripping Springs (2014-2019)
Georgetown (2015-2020)
Keller (2014-2019)*
Lakeway (2014-2019)
Mesquite (2014-2019)*
North Richland Hills (2011-2016)*
Pearland (2011-2016)
Pflugerville (2015-2020)*
Sealy (2015-2020)*
Southlake (2012-2017)
South Padre Island (2015-2020)*
Sugar Land (2015-2020)*
Westlake (2015-2020)
Silver
College Station (2015-2020)
Colleyville (2012-2017)
Cuero (2015-2020)
Granbury (2015-2020)
Grapevine (2015-2020)*
Heath (2011-2016)
Houston (2013-2018)
Irving (2015-2020)*
Mansfield (2011-2016)
Trophy Club (2011-2016)
Waxahachie (2014-2019)
West University Place (2013-2018)*
Bronze
Bastrop (2015-2020)
Beaumont (2014-2019)
Corinth (2014-2019)
Denton (2014-2019)
Friendswood (2014-2019)
Horseshoe Bay (2015-2020)*
Hutto (2011-2016)
La Vernia (2014-2019)
Nassau Bay (2015-2020)
Recognized
Double Oak (2012-2017)
Kennedale (2013-2018)
Magnolia (2015-2020)
McAllen (2011-2016)
Pilot Point (2015-2020)
Prosper (2015-2020)
Seabrook (2013-2018)
Taylor (2014-2019)
Webster (2014-2019)
West Lake Hills (2015-2020)