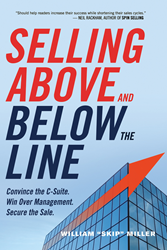 "Should help readers increase their success while shortening their sales cycles."--Neil Rackham, author of "SPIN Selling"
Saratoga, CA (PRWEB) February 11, 2015
How companies buy has changed dramatically in recent years and will continue to evolve, requiring that sales leaders either change their strategies or fall behind. Acclaimed sales trainer, author and president of M3 Learning, William "Skip" Miller, explains this evolution has fundamentally changed the way companies need to sell.
"Being successful at sales means being able to clearly identify who you're selling to and to which value proposition," commented Miller. "'Selling Above and Below the Line' decrypts this in a way that's as timely as it's actionable. These are the strategies the top sellers are using to close the biggest clients in the world each and every day."
"Selling Above and Below the Line" is focused on one of the most important sales topics today—how to appeal to both user buyers and C-Suite buyers to simultaneously sell the technical and financial fit of any product or service. This strategy is successfully being used by big names in business today, including Google, Tableau Software, UGG, Virgin Atlantic and WebEx.
According to Skip Miller, "Selling Above and Below the Line" focuses on two key sales areas. The first is cost, price, features and functionality, the "below the line" sales criteria that are well understood by experienced salespeople. The other area, the "above the line" perspective, covers areas like ROI, time saved, risk lowered, and improved productivity. These are where top level executives generally focus and demand an ROI for their investment. In Miller's experience and expert opinion, salespeople who master at selling both "above and below the line" in the sales process are rewarded with spectacular results. His new book breaks down how to accomplish this type of success quickly and effectively.
"I'm determined to end the sales qualification phrase, 'Find the decision maker.' It's old school," stated Miller. "For most deals there are two decision makers, and the salesperson who does not get both early in the process will commoditize their sale."
It comes complete with passionate endorsements.

According to Neil Rackham, author of "SPIN Selling", Miller's book "Should help readers increase their success while shortening their sales cycles."
Jill Konrath, author of "Agile Selling" and "SNAP Selling", remarked, "Getting prospects to switch off the status quo is tough. In this book, you'll discover how to leverage killer value propositions to create momentum and accelerate the sales process."
"Skip's book should not just be read, but followed. It's a surefire guide to success," stated Steve Schiffman, author of "The 25 Sales Habits of Highly Successful Salespeople."
"Selling Above and Below the Line" is available through Amazon, Barnes & Nobel, and IndieBound and soon will be available in multiple airport bookstores throughout the United States. For bulk orders, to customize this book for employee training, promotions, incentives, or gifts, or for faculty evaluation for college adoption, contact the publisher, AMACOM.
Miller also authored the runaway best seller, "ProActive Sales Management". Ranked #1 by Amazon for five consecutive years, it has been translated into multiple languages worldwide and has become the classic textbook for Sales Managers. Other books by Skip include "ProActive Selling", "Knock Your Socks Off Prospecting", "Ultimate Sales Tool Kit", and "More ProActive Sales Management". "ProActive Selling" and "ProActive Sales Management" are currently being published as Second Editions.
M3 Learning, a proactive sales and sales management training company headquartered in the heart of Silicon Valley, CA, is one of the most influential and successful sales management and training companies worldwide. More than 300,000 sales professionals in 38 countries have benefited from M3's proprietary sales training tools, corporate training seminars and publicly offered sales school.
###
#sellatl-btl, #sell #salestraining #salesbooks