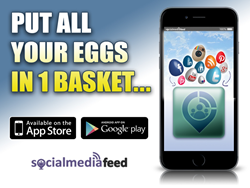 I was on social media since Friendster, and so you can imagine how many social network accounts I've accumulated over the years.
Hoboken, NJ (PRWEB) July 21, 2015
A Kickstarter campaign drive has begun to develop a new mobile app that will enable individuals and small businesses to merge multiple social media platforms into one single feed: Social Media Feed. By aggregating social networking activity, users will be able to merge profiles, content, and relationships into a single app, saving time while staying connected.
Whether individuals belong to two social networks or eight, the Social Media Feed app enables users to sync and merge their social media accounts. After a one-time sign up, users will stay up-to-date with current events, personal interests, and continue sharing and publishing their content to multiple social networks all from the centralized app.
Social Media Feed app will also be designed with small businesses in mind. Owners may write content, filter posts, and publish; ensuring their brand has a presence across all relevant social networks. Businesses will also be able to easily embed brand mentions from social media into their company's website. Other backend features business owners will enjoy include a referral program that pays a revenue share, as well as the ability to moderate and analyze engagement activity so that only messages with the greatest impact are distributed.
Social Media Feed is the innovation of longtime social media fan, Brian Schwartz. The app will work in concert with SocialMediaFeed.com, an existing website that allows businesses to forge data-driven and participatory content across the digital space. Explains Brian, "I was on social media since Friendster, and so you can imagine how many social network accounts I've accumulated over the years. It got to be too much, and that's how my vision for Social Media Feed was born. The goal is simple: to streamline life in the digital age."
Brian believes the app is the final piece in his vision. "What do I want for our clients? The ability to embed it, then forget it. The Social Media Feed app will make life easier, whether used alone or in concert with our desktop website."
The app's features also include the option to schedule posts, stagger posts across various networks, and setup feeds through #hashtags so that only content of interest is displayed. Continues Brian, "the Social Media Feed app will enable us to be more productive and not miss a beat with the people and events that are truly meaningful to us."
Once developed, the Social Media Feed mobile app will be available on the AppStore and GooglePlay.
To fund the Social Media Feed Kickstarter campaign, please visit Social Media Feed Mobile App on Kickstarter: https://www.kickstarter.com/projects/socialmediafeed/social-media-feed-mobile-app
Find out more about Social Media Feed at the Social Media Feed website: http://www.SocialMediaFeed.com
About Social Media Feed
Social Media Feed is a company based in Hoboken, New Jersey. The company's CEO & Founder is Brian Schwartz. Brian created the company to streamline how individuals and small businesses connect with their friends, fans, and customers. The Social Media Feed mobile app will dovetail the Social Media Feed desktop website, creating an intuitive and simplified workflow for the digital age.
Reach out to Mr. Brian Schwartz: ks(at)socialmediafeed(dot)com