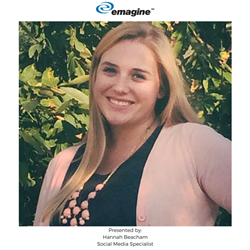 We wanted to create a webinar that pin points some common social media mistakes for B2B as well as what you can expect from a well thought out strategy
Taunton, MA (PRWEB) March 06, 2015
eMagine, leading Digital Marketing Agency specializing in B2B, High-Tech and Healthcare, is excited to present the 2nd webinar for their bi-monthly series that launched January 2015. The webinar, titled "Social Media: Deciphering Network Personas For Your B2B" will take place March 24, 2015 from 2pm-3pm EST. Attendees will have the opportunity to learn about the unique advantages that each social network offers and the correct way to use each channel to their business's advantage in order to stand out in the online chatter.
Led by eMagine's Digital Marketing Strategist and Social Media Specialist, Hannah Beacham, this session will focus on creating the right Social Media strategy based on the business-to-business target audience and how to follow Social Media's golden rules.
Webinar topics include:

Explanation of Each Network's Role In Your B2B Strategy
B2B Statistics on the Social Media Leading Players
A Sample Marketing Plan Utilizing Each Network
"When it comes to social media there are a lot of marketers out there who feel they are experts. But, time and time again I notice there is an overall lack of vision and strategy," said eMagine's Social Media Specialist, Hannah Beacham, "We wanted to create a webinar that pin points some common social media mistakes for B2B as well as what you can expect from a well thought out strategy."
eMagine previously hosted the webinar "B2B SEO: 10 Mistakes You Don't Know You're Making" in January, kicking off the webinar series. Over 45 B2B professionals attended and participated in a presentation and subsequent discussion held by eMagine's Digital Marketing Specialists, Alicia Hale and Allie Viau.
Registration for the Social Media for B2B webinar is complimentary and open for attendees to register here. Remaining installments of the webinar series will launch bi-monthly for the remainder of the year. A range of the firm's employees will host each webinar and will share insight and expert advice based on each of the topics listed below:
Web Design: User Experience, CRO and Re-design
Digital Marketing: SEO, Social Media, PPC
Branding & Messaging: Brand Identity, Target Market, Elevator Pitch and Competitive Positioning
Future topics will be released three weeks before each webinar. For more information, visit our B2B Blog, follow us on Twitter @emagineusa or join the conversation on Facebook or LinkedIn.
About eMagine
eMagine is the leading Web Design & Digital Marketing Agency for B2B, High-Tech, Healthcare, Professional Services and Manufacturing. Tracing its origins to the dawn of the Internet age in 1995, eMagine's services include, Web Design, SEO, Social Media, Branding and Web Support & Hosting. eMagine's helps clients achieve real business results from a 360 degree digital marketing effort. The company's blog (http://www.b2bwebstrategy.com/ ) provides industry thought leadership on the full spectrum of digital marketing. Join the conversation on Facebook, Twitter and LinkedIn. Further information may be found by visiting http://www.emagine.com or by calling 877-530-7993.
###