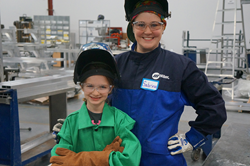 I wanted to show the girls that there are more really fun and rewarding opportunities out there for women than we are normally exposed to at a young age.
Cincinnati, OH (PRWEB) February 09, 2015
Definity Partners, Ojett, Upside Innovations, and Scarlet Oaks Career Campus of Cincinnati recently held a manufacturing and STEM (Science, Technology, Engineering, and Math) workshop for two troops from the Girl Scouts of Western Ohio chapter to inspire girls to explore STEM at a younger age and specifically to raise awareness about careers for women in the manufacturing industry.
During the workshop, the Girl Scout troops went from station to station learning from strong, female role models in the manufacturing industry, engaging in discussions about STEM careers, and participating in hands-on activities including a marshmallow engineering challenge, welding an aluminum flower, and using a Plasma cutting machine to trace their initials on a piece of aluminum.
Sabrina Smith, a senior in the welding program at Scarlet Oaks of Great Oaks Career Campuses in Cincinnati, led the Girl Scouts through the welding station. Smith the only female in her program, recently won the local Skills USA competition for her welding division at Scarlet Oaks, and will go on to compete in the regional competition later this year.
"Sabrina is one of the best and most skilled welders I've met," said Scarlet Oaks Instructor Phil Moore, "She's probably better than I am."
Smith, a former Girl Scout herself, used the skills she learned in the classroom, combined with her passion for Girl Scouts to lead the troops through a hands-on activity welding an aluminum flower. Each girl was able to hold the welding torch and learn how to weld pieces of metal together correctly.
"Welding is like making a grilled cheese sandwich," explained Moore, "The melting of cheese is like the melting of the materials; it's making everything become one."
Under Moore's instruction, Smith has obtained more than 10 welding certifications, and she is on her way to earning more before spring.
"I was really excited to be part of this event because I wanted to show the girls that there are more really fun and rewarding opportunities out there for women than we are normally exposed to at a young age," said Smith. "I always knew I wanted to work with my hands, and now welding has become one of my greatest achievements."
For more information on future educational classes or to inquire about student programs, please visit DefinityPartners.com/events and contact Tara Amis at 513-256-7267 or e-mail her at tamis(at)definitypartners(dot)com.
About Definity Partners:
Definity Partners is a leading business improvement firm that works directly with organizations to implement change, delivering rapid results through the Run Improve Grow© business method developed by Ray Attiyah and his team at Definity. The RIG™ business model approach is to simplify, standardize and automate your organization's operations through frontline empowerment, process improvement, education, technology optimization and ultimately cultural change. Definity helps you transform your organization's culture by working side-by-side with your frontline leaders, empowering them to make day-to-day decisions, enables managers to concentrate on improving processes and growing the business. Freeing managers of the daily grind and time-consuming fire-fighting transforms an organization's culture and brings innovation, inspiration and new life to your teams. Does your facility need some inspiration? Headquartered in Cincinnati, Definity Partners works with organizations across the U.S. and Mexico. To learn more, visit DefinityPartners.com or call (513) 381-7200.