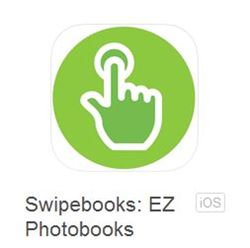 The intuitive Swipebooks interface makes it easy to select the best photos, and then create a photo book from them in seconds. -- Fred H. Lerner, founder and CEO, Winkflash
Huntington Beach, CA (PRWEB) September 29, 2015
Winkflash, the photo-printing, canvas and gifting site, released an innovative free iOS app for quickly creating mobile photo books. Swipebooks for Winkflash is the first mobile photo book app to embrace finger swiping as a way to not only select photos, but to adjust photo-book layouts.
"Swipebooks was created to allow the mobile photographer to create photo books from their photos on their Apple devices," says Fred H. Lerner, founder and CEO, Winkflash. "Printing your iPhone photos is the only way to be sure your photos will live on in case of a lost phone or crash. The intuitive Swipebooks interface makes it easy to select the best photos, and then create a photo book from them in seconds."
Books can be ordered an iPhone for shipping to the consumer's home or any address they choose. A 20-page book will cost $19.99, plus shipping.
ABOUT WINKFLASH.COM
Winkflash.com is the pre-eminent site for printing photos instantly at thousands of retailers from your phone app or PC and also offers convenient mail-to-home. Winkflash preserves photo memories as photo books, canvas, prints, cards, enlargements and other photo gift products. The service is seamlessly integrated to print your photos and the photos you are tagged in from Facebook and Instagram photos…and photos from any phone, device or computer. Winkflash offices are located in Huntington Beach, Calif.
Fred H. Lerner is the founder and CEO of Winkflash. He previously founded Ritz Interactive, which included RitzCamera.com, WolfCamera.com and others. Fred also founded two imaging companies which were acquired by Kodak and became the CEO of Kodak Processing Labs. He is a United Nations' Hall of Fame recipient from the International Photographic Council and Past President of the Photo Marketing Association International. 
Peter Tahmin, co-founder and COO of Winkflash, was the former vice president at Ritz Camera & Image and co-founder, senior vice president and COO of the Ritz Interactive e-commerce network, which included RitzCamera.com, WolfCamera.com, BoatersWorld.com and others. He brings 20 years of e-commerce experience and a lifetime of imaging industry experience to Winkflash.