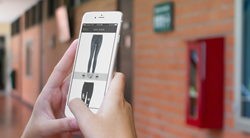 Tailored is bringing a new concept along with new technology to enhance the way we find apparel that fits.
Naples, Florida (PRWEB) December 16, 2015
Available now, Tailored melds streaming with online clothes shopping to introduce an easy way to find properly sized apparel. Add body measurements or a clothing size to the app and it perpetually searches brands for new clothing. When it finds a matching item, an image of the item is streamed to the users feed, which is nicely organized by brand.
Tailored was designed for both women and men, helping to simplify clothes shopping and the process of choosing a size. Tailored's most unique, and proprietary, feature will incorporate the camera on mobile devices. Users will be able snap photos of items in their closet and be shown new styles similar in size.
"Shopping for clothes is time consuming. We wanted a way to help consumers sort through the endless amounts of available apparel, so we created a resource that guides them to items specific to them." said Kristy Desmarais, CEO and Co-Founder of Tailored.
A user's clothing feed is updated automatically throughout the year as new brands and styles are added. Whenever they're in the mood to add to their wardrobe, they simply open the app and new styles are there waiting to be viewed. Tailored currently features bottoms and will add tops and other garment categories in the future.
"Customer engagement costs brands thousands of dollars each year," explains Tailored COO Shayne Faerber. "Our goal is to match users with brands that design apparel for their bodies, regardless of where in the world the brand or shopper is located, thus helping our brand partners instantly get product seen by the right customers."
Tailored has partnered with over 45 brands from around the globe and continues to add more to appeal to a variety of shoppers. Tailored is available as a free download through the App Store.
Visit Tailored App for more information.