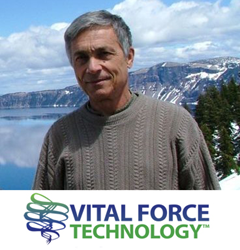 7:30pm on April 24, 2015, doors open at 7PM, at Unity Palo Alto Y.E.S. Hall, 3391 Middlefield Road, Palo Alto
White City, OR (PRWEB) April 20, 2015
Dr. Yury Kronn, PhD. will talk about developing a clear, cohesive and practical understanding of the foundation of energy medicine. What seems to be missing from the branch of the healthcare field known as "energy medicine" is a common language for and deep, practical understanding of what the ancients called "life force," "chi" or "prana," and what many now call "subtle energy." This lecture will be a basic, yet comprehensive study of the nature of subtle energy (inclusive of the most current research on the topic), providing a rich, clearly rendered picture of subtle energy and its role in our lives. Dr. Kronn will also discuss why a clear understanding of subtle energy is essential for all people, but especially for anyone currently practicing energy medicine.
Dr. Yury Kronn PhD, inventor, author developed the comprehensive theory of quantum nonlinear interaction of coherent electromagnetic fields with atoms and molecules, co-authored the definitive book in his field, He has four patents and is currently finishing his new book entitled Subtle Energy – Using Technology to Harness the Force of the Universe: 30 Years of Research Bridging Modern Science and Ancient Wisdom. Today, Dr. Kronn is an authority in the science of subtle energy vital force and has been involved in subtle energy physics research for the past 30 years. He is transforming the knowledge of subtle energy and modern physics into layman terms with his down-to-earth teaching style making it easier to understand.
IASC will meet at 7:30pm on April 24, 2015, doors open at 7PM, at Unity Palo Alto Y.E.S. Hall, 3391 Middlefield Road, Palo Alto. Donations required as follows: Free to members, $15 Admission, $5 Students with ID. This workshop is devoted to the discussions of the research on subtle energy properties using subtle energy patterns developed during 25 years of the experiments with Vital Force Technology (VFT). The following topics will be covered during the workshop:

Feasible mechanisms of the subtle energy interactions with inanimate matter and living organisms and methods of delivering the subtle energy patterns to the human body.
Methods used for the creation of the Vital Force energetic formulas.
Scientific experiments confirming an effectiveness of subtle energy on different levels: physiological, psychological and mental.
Observation of subtle energy effects on cell viability, mitochondrial activity and gene expression.
Effects of environmental energy on healing process and methods of adjusting the environmental conditions to maximize healing effects of any modality. How subtle energy can help to diminish the negative effects of the EM pollution.
Energetic formulas for support of spiritual practices: meditation, yoga, self-healing and so on.
The role of subtle energy as a carrier of the "mind effect on matter,' that allows to explain mechanisms of such phenomena as "placebo,' "power of intent,' healing effect of prayers and affirmations. This confirms existence of and demystifies many phenomena considered by the modern science as "superstitions.'
Devices using energetic methods of the diagnostics and healing: how to discern what is real to expect and what is not.
The participants will be able to experience several VFT energetic formulas during the workshop. Along with the retail line of the energetic formulas, the professional line of the VFT products will be available for the health practitioners. The workshop will be held Saturday, April 25, 2015 from 11A to 3PM, at Los Altos Masonic Lodge, 146 Main St., Los Altos, CA 94022. The pricing for this workshop is $50 members and $65 non-members, PayPal payments are available online at http://www.i-asc.org. To register for the workshop, call (650) 948-0419.
###
About Institute for the Advancement of Science and Consciousness
Institute for the Advancement of Science and Consciousness (I-ASC) is a nonprofit organization that seeks to advance the consciousness of individuals and organizations so they can live in greater harmony with one another, the earth, and the cosmos. Through the study of science, higher realities, and Universal Laws and principals, I-ASC seeks to provide resources to help individuals discover, explore, and apply this wisdom so that they can live with a greater sense of peace, love, understanding and freedom. For more information about the Institute for the Advancement of Science and Consciousness, visit http://www.i-asc.org.
About Vital Force Technology
Vital Force Technology (VFT) is the leader in infusion technology with 15 years' experience, clients around the globe and scientific research supporting the effectiveness of services offered. Provided are a range of innovative energetic signature formulas and product infusion services, which benefit wellness, personal care, animal care and agriculture markets. VFT's technology and infusion process supports increased product effectiveness, maximizes bio-energetics in product ingredient formulations, and offers innovative solutions with competitive advantages to many industries. Headquartered in White City, Oregon, this family built business has become a global market leader in bio-energetic ingredients and infusion technology. For more information about Vital Force™ Technology, visit http://www.vitalforcetechnology.com.