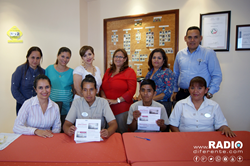 Cabo San Lucas, Mexico (PRWEB) June 23, 2015
Solmar Foundation is one of the most recognizable charitable organizations throughout the entire country of Mexico. By hosting programs and providing grants to a host of charities in Los Cabos, several different types of aid and assistance is provided to those who need it most. For those who aren't familiar with all the different types of support this group provides for the Los Cabos community, there are many different measures the founders of this group have taken to help out. In fact, all those who work for Solmar Foundation have always strived to provide assistance to families who may be struggling with living in poverty.
The majority of the work performed by the Solmar Foundation, involves providing different types of health assistance as well as educational programs for children, along with providing support for members of the elderly community as well. These things and more are what make the Solmar Foundation a true example of making a difference in a community. This is in addition of course to the homes which were rebuilt from the devastating 2014 Hurricane Odile. The foundation has successfully helped dozens of families with the completion of over 100 homes; returning their lives to normalcy after losing everything from the powerful September hurricane. But one recent program in particular has people all around town talking as it is innovative and really a true testament to what the foundation strives to do; help serve the community and all its members.
The Solmar Foundation has taken the time and initiative to offer something that allows members of the community to better themselves. The focus of this new program works with other public agencies to integrate resources where it matters most—giving people a chance to learn skills that will benefit them when trying to find employment. The development of marketable skills (offered through classes and training provided by Solmar Foundation) for poverty-stricken or disabled individuals is something that is important for finding a job, and that's why those who can't afford these classes or perhaps need extra assistance and attention can finally get the chance to do so.
The Solmar Foundation's motto is, "We enjoy what we do and always encourage against adversity." The recent creation of this program, which helps disabled individuals gain employment within Solmar Hotels and Resorts, has provided several jobs to those who need it most. One of the best parts about this is just how groundbreaking these steps have been. Solmar Hotels is the first and only hotel/resort group to start an outreach program like this in Los Cabos, and continues to strive each day to break boundaries.
For more information about this wonderful program or to find more ways to give back in the Los Cabos community, visit http://solmarfoundation.com
###
Grand Solmar Contact Information:
Av. Solmar No. 1A Col. Centro
Cabo San Lucas, BCS, México
C.P. 23450
Phone: 1-310-459-7276
Email: info(at)solmar(dot)com(dot)mx
Press release distributed by JW Maxx Solutions, a leader in content management solutions and part of a family of companies that includes Enterate Ahora.