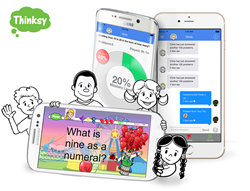 Whether you are at work, on the treadmill, or even in another country, you can stay engaged in your child's learning.
Malden, Massachusetts (PRWEB) May 20, 2015
Boston-based startup SenseiX launches Thinksy a platform that turns an expanding library of educational kid games into powerful vehicles for parent engagement.
"We realized that many parents are searching for better ways to stay involved in their child's learning and development in this increasingly digital age," says CEO, Wai Cheng. "Tools for insight exist, but engagement is a two-way street and no one is giving parents a way to act on those insights."
Thinksy-enabled games, built in partnership with dozens of independent game developers, relay assessments directly to parents through Thinksy's web portal and iOS or Android app. Parents can quickly review their child's missed (or aced) questions, learning trends, game-specific statistics, and mastery level for each learning objective. With these insights, parents can adjust objectives in real-time or utilize a system of in-game messages, emoticons, and digital gifts to motivate or reward learning.
"It's not unlike using stickers at home or in school," says CTO, Duane Compton. "The difference is that you can do this from anywhere. Whether you are at work, on the treadmill, or even in another country, you can stay engaged in your child's learning." And this process does more for a kid's development than many may realize. Engaged parenting has well documented impacts on everything from school performance and attendance to motivation and self esteem.
Regarding the decision to use games as the engagement medium, Compton explains, "The current generation of indie game developers is the first to have grown up playing educational video games. They know more about crafting fun learning experiences than anybody." Partnerships with these developers also allow Thinksy to offer a fast growing library of connected games in a variety of styles.
At present, Thinksy-enabled games cover hundreds of Kindergarten through 3rd-grade math learning objectives, with more grades and subjects on the way. The curriculum is cloud-based and contains over one million questions aligned to the Common Core State Standards. This also means that as players progress in one game, their learning objectives are adapted and maintained among all other Thinksy-enabled iOS, Android, and PC games.
Thinksy-enabled games (many of which are free-to-play) are currently available on iOS, Android, and PC. The parent insight and engagement tools are available via Thinksy's subscription offerings, with pricing starting at $7.50/month.
About Thinksy
Founded in July of 2014 by veteran software developers Wai Cheng and Duane Compton, Thinksy's mission is to build educational technology that combines the joys of gaming with the impact of engaged parents.
Press contact
Eric Anderson, Director of Marketing
Phone: +1 702.720.4263
Email: eric.anderson(at)thinksylearn(dot)com
Website: http://www.thinksylearn.com