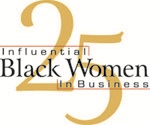 I have been amazed by the heights these women continue to achieve," states TNJ Publisher and CEO Aziz Gueye Adetimirin.
New York, NY (PRWEB) February 10, 2015
The Network Journal (TNJ), an award-winning business magazine for African-American professionals, corporate executives and business owners, announces its 2015 list of 25 Influential Black Women in Business.
"For seventeen consecutive years The Network Journal has recognized the outstanding professionalism of 25 African-American women annually and for seventeen years I have been amazed by the heights these women continue to achieve," states TNJ Publisher and CEO Aziz Gueye Adetimirin.
The 25 Influential Black Women in Business" Class of 2015:

Katrina M. Adams, Chairman of the Board, President and CEO, United States Tennis Association
Beatrice Hamza Bassey, Esq., Partner, Hughes Hubbard and Reed LLP
Lori George Billingsley, Vice President, Community Relations, Coca-Cola North America
Miko Branch, Chief Executive Officer, Miss Jessie's LLC
Sharon L. Contreras, Superintendent, Syracuse City Schools
Rosalind P. Danner, C.P.A., EPMO, Vice President, Finance & Business Management, McGraw Hill Financial, Inc.
Leecia Eve, Vice President, State Government Affairs – NJ, NY & CT, Verizon Communications Inc.
Allyson Hugley, President, Measurement, Analytics and Insights, Weber Shandwick
Sandra Jackson-Dumont, Frederick P. and Sandra P. Rose Chairman of Education, The Metropolitan Museum of Art
Melissa E. James, Managing Director and Global Head of Loan Products Group, Morgan Stanley
Gennell A. Jefferson, Senior Vice President, Strategic Business Development, GE Asset Management Inc.
Danielle Moss Lee, Ed.D., Chief Operating Officer, YWCA of the City of New York
Necole Merritt, Group Vice President, Corporate Communications, Entergy Services, Inc.
Alison L. Moore, Managing Director and Associate General Counsel, JPMorgan Chase & Co.
Vivian Rogers Pickard, President, General Motors Foundation; Director, Corporate Relations, General Motors Company
JoAnn Rolle, Ph.D., Dean of the School of Business, Medgar Evers College - CUNY
Helen C. Shelton, Senior Partner, Director of Multicultural Marketing, Finn Partners, Inc.
Donna Lynne Skerrett, M.D., Chief Medical Officer, Mesoblast
Faith Taylor, Senior Vice President, Global Corporate Responsibility, Wyndham Worldwide
Josie J. Thomas, Executive Vice President, Chief Diversity Officer, CBS Corporation
Yvonne S. Thornton, M.D., FACOG, FACS, Clinical Professor of Obstetrics and Gynecology, New York Medical College
Diane L. Waller, Senior Vice President, Global Regulatory Compensation, Bank of America Merrill Lynch
Carol H. Williams, CEO and Chief Creative Officer, Carol H. Williams Advertising Agency
Karen Mackey Witherspoon, Vice President, the Division of Government, Community & Cultural Affairs, The City College of New York - CUNY
Lana Woods, President, Lana Woods Gallery
This select group will be profiled in the Spring 2015 issue of the magazine, and will be formally honored during Women's History Month at the 17th Annual 25 Influential Black Women in Business Awards Luncheon, presented by Morgan Stanley, on Thursday, March 26, 2015. This highly anticipated signature TNJ event will be held at the New York Marriott Marquis Hotel, located at 1535 Broadway (between 45th & 46th streets) in New York City, from 11:00 a.m. to 2:00 p.m. This year's sponsors include Morgan Stanley, Aflac, L'Oréal USA, Prudential, Upscale, AfricaStrictlyBusiness.com and WBLS-FM.
The program includes a networking reception, lunch and awards presentation with Mistress of Ceremonies Brenda Blackmon, multi-Emmy Award-winning journalist. The event attracts a "Who's Who" of business executives and decision makers from various industries. Tickets are $325.00 if purchased on or before March 19th, and $375.00 thereafter. To purchase tickets, please visit http://www.tnj.com/25-Influential-black-women-award-luncheon.
About The Network Journal
Founded in 1993, The Network Journal (TNJ) is an award-winning magazine published quarterly. It provides news and commentaries on issues that affect the growth of business and the advancement of professionals in the workplace for an audience of predominantly African-American professionals, corporate executives and small-business owners. Engaging more than 98,325 readers per issue, TNJ is distributed nationwide, with a focus on the New York tri-state area, while its sister daily publication at tnj.com reaches a global audience. For more information call (212) 962-3791, or visit the Web site at http://www.tnj.com.