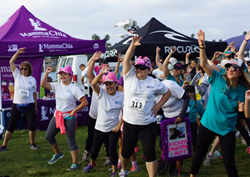 San Diego, CA (PRWEB) August 16, 2015
The family-focused event features scenic bay front fun, with kids' activities and a lively wellness marketplace with over 30 vendors. Acclaimed fitness instructors from Fit4Mom will warm up and empower the crowd. This is the perfect opportunity for the entire family to indulge in healthy samples, enjoy activity demonstrations and fundraise for cancer research. Cancer survivors will be honored at the event. The proceeds from the event benefit research, treatment and education programs at City of Hope, aiding the center's efforts to expand awareness of the importance of physical activity for cancer prevention. Together4Hope event sponsors: California Bank & Trust, Jerome's Furniture, NASSCO, Essentia Water, The SUP Connection, San Diego 6 The CW and Anar Party Rentals.
"City of Hope in some ways operates as a grassroots organization, " said Robyn Hima, Regional Director of Philanthropy for City of Hope's San Diego regional office. "We provide opportunities in the community to showcase the dedication of everyday folks who are passionate in their desire to find a cure for cancer."
Media is invited to film and photograph this family friendly event. Interview opportunities include cancer survivors, fitness professionals, large teams and Robyn Hima, Director of Philanthropy, City of Hope. Contact anixon(at)coh.org.
Together4Hope Details:
Date: Saturday, September 26, 2015
Time: Opening Ceremony, 7:30 a.m., 5K Walk, 8:00 a.m., SUP, 8:00 a.m., 9:30 a.m.;
Wellness Marketplace, 7:00 a.m. – 11:00 a.m.
Location: 3000 North Mission Bay Drive, San Diego, 92110
Registration Fee: Advance Registration: $35; Youth $25
Website: http://together4hope.org
About City of Hope:
City of Hope is a leading research and treatment center for cancer, diabetes and other life-threatening diseases. Designated as a Comprehensive Cancer Center, the highest honor bestowed by the National Cancer Institute, and a founding member of the National Comprehensive Cancer Network, City of Hope's research and treatment protocols advance care throughout the nation. City of Hope is located in Duarte, Calif., just northeast of Los Angeles, and is ranked as one of "America's Best Hospitals" in cancer and urology by U.S. News & World Report.