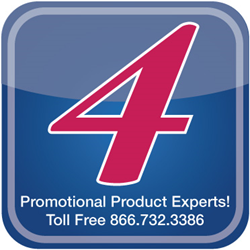 Essex, Ct (PRWEB) January 20, 2015
4AllPromos has everything a business, brand or client needs to make the 2015 tradeshow year a successful one. A new year means new business opportunities, new events to plan and new customers to meet. Tradeshows are a great way to get out and make connections and show off your brand.
The first thing businesses need at a tradeshow is an impressive setup or booth. 4AllPromos can provide signage and banners to make a brand and business stand out at any event. Customize a banner and take it on the road to display at every stop along the way. Large banners and signs are sure to grab the attention of potentials customers and clients.
The second thing every tradeshow vendor needs is giveaways. Giveaways and affordable, useful promotional and custom imprinted products are 4AllPromos specialty. Give prospective clients, customers and visitors something useful to carry around at the tradeshow. Tote bags, sport bottles, gourmet snacks and candy, pens and notebooks all make great giveaways.
Finally, every tradeshow vendors needs some kind of standout products, demonstration, giveaways or prize. Tech gadgets and gears are always a great way to engage visitors. Raffle off some piece of technology and make sure to include a custom imprinted and promotional accessory or case to go with it. Funny t-shirts and apparel will create buzz about a products or service. Encourage visitors to wear giveaway apparel and create some sort of incentive for helping to advertise and market at the event.
For more ideas on how to make a splash at 2015 tradeshows visit http://www.4AllPromos.com 4AllPromos is a leading online marketer of custom imprinted and promotional tradeshow items, apparel, office supplies, party supplies, tote bags, sport bags and more.