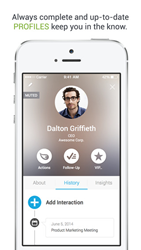 Triggerfox helps eliminate 'follow-up failure', never letting an important relationship go cold
Toronto, Ontario (PRWEB) March 04, 2015
Triggerfox, a relationship intelligence platform that helps professionals build and maintain meaningful relationships, is preparing to launch a significant mobile product enhancement.
"We have been developing the platform for more than a year and after incorporating feedback from customers, we are excited to be readying the first major enhancement to the system, to be released in the coming months," says Triggerfox founder and CEO Frank Falcone, former CRM Product lead for Microsoft and Program Director at the Rotman Executive Centre for CRM Excellence.
Triggerfox seamlessly aggregates all contacts information from various sources including professional and social networks, phone, calendar, and email into a unified address book, focusing on the people that are most important to you. The platform monitors social channels, news, and other data sources to provide powerful insights and updates about your contacts. The service keeps you in the know and allows you to take instant follow-up actions directly from your mobile phone.
"In short, Triggerfox makes managing your professional relationships easy. It helps eliminate follow-up failure, never letting an important relationship go cold," says Falcone.
Triggerfox received an initial $1.8 million seed investment round led by Toronto tech investor and advisor Todd Finch, along with a group of Toronto- and Boston-based angel investors, including Dharmesh Shah, Co-founder of Hubspot and Wayne Chang of Twitter.
Recently, the start-up closed a second round of funding of $800,000 in order to enhance its mobile experience. The investment came from a syndicate led by Matthew Staikos (@mrmstaikos), a former BlackBerry director who sold his last startup (Torch Mobile) to BlackBerry.
"We are very excited to have Matthew as part of our team, adding his extensive background in mobile technologies," says Falcone.
Staikos also joins the Triggerfox Board of Directors and will be acting in an advisory role as head of corporate strategy.
"Ironically, in today's hyper-connected world, it's getting even tougher to remain connected. Maintaining strong relationships can make or break a business. Triggerfox makes managing those relationships simple," says Staikos. "People are drowning in tons of social media noise, and overflowing inboxes, and they dislike using traditional CRM software to manage their relationships. Triggerfox filters through all of the noise for you, beautifully organizing your contacts and providing the insights and intelligence that can make a difference in your relationships and your business. I see huge potential for this platform."
For More Information Please Contact:
Media contact:
Frank Falcone
Phone: 416-435-5458
Email: frank(at)triggerfox(dot)com
Twitter: @frankcrm
Skype: frankfalcone
http://www.Triggerfox.com