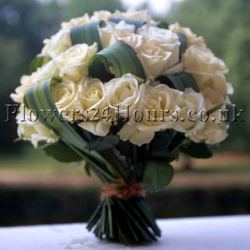 London, UK (PRWEB UK) 11 February 2015
London florist Flowers24Hours is having an release of this year's boldest, most romantic Valentine's Day Flowers that send only one message: love. London couples looking to send a bouquet of Valentine's flowers—for him or for her—definitely won't want miss this grandiose flower display that's bound to get hearts throbbing and whisk lovers away.
Valentine's Day Flowers as an Art Form
Valentine's Day flowers are more than normal bouquets, like plants or vase displays, watered and forgotten; they are a form of art—one that Flowers24Hours takes seriously. The London flower shop is intent on creating the very best Valentine's flowers arrangements, elegant and sexy and unique, and making every one of their Valentine's flowers delivered nothing less than perfect. This year, expert florists and designers are arranging classic red roses, white roses, pink gerberas, lilies and orchids into arrangements that captivate and delight. There are even some wonderful valentine's flower arrangements for men. These Valentine's Day flowers are also comparable to love poems, as well. Every arrangement is an expression, and when given to a special someone, a partner or a close friend, they become a declaration that can be seen, touched and, of course, smelled.
Flowers24Hours has come out with some unique and classic twists on this Valentine's Day flowers arrangements. Their Diva, Swan Lake and Pink Lilies arrangements are big, beautiful bouquets that use traditionally romantic flowers in decadent, layered profusions. These bouquets are carefully composed: balanced cream monochrome in the Diva arrangement; Swan Lake's crisp white roses surrounded by foliage and satiny green; and Pink Lilies, a mixture of buds and blossoms, greens and pinks, that comes across as wild and exciting but should have a soothing effect once the lucky recipient takes a deep breath of their fragrance!
Romantic flower bouquets are a hallmark of not just Valentine's Day, but as a symbol of love in its many forms. There is something in the best Valentine's flowers that is "barely containable" and a pleasure to see, to touch, to breath in: this is what Flowers24Hours aims to recreate in their flower arrangements. That sense of giving. A moment of shared happiness. Of course hand wrapped bouquets like Queen Catherine—11 red roses brightly popping among green leaves and red bow—embody this excitement, gratitude and joy of life and love on Valentine's Day. Flowers24Hours takes an unconventional approach, too, but one that is no less satisfying: Magic in a box is a single white rose, elegant and classy, a small but serious display of affection. Dreaming Beauty is somewhat more fanciful and flamboyant, using a selection of deep red roses, various green leaves and ephemeral silken fabrics—so for today at least, on Valentine's Day, it's really as if a dream has become reality.
This February, Flowers24Hours wanted to change things up, making sure it is about Valentine's gifts for her and for him. The Siesta is a sharp-looking potted cactus plant popping up out of a bed of desert rock; and the Sombrero is a cute and masculine trio of different cacti, perfect for a countertop at home or the desk at the office. Of course, some people prefer to share. Valentine's Day gift baskets full of fresh fruits or combining Valentine's day flowers and chocolates are an ideal way to stimulate all senses and please everybody!