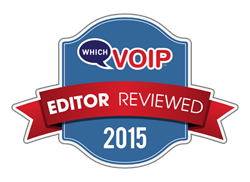 VoIP Providers can use WhichVoIP as a reputable resource for feedback, reviews and testimonials.
Seattle, WA (PRWEB) January 06, 2015
WhichVoIP.com, the Internet's leading resource for information and comparison of VoIP solutions, today announced its list of the top 10 most talked about VoIP providers of 2014. With over 10 years worth of user feedback already in the WhichVoIP database, 2014 saw extremely high user engagement with a high number of additional user reviews and comments being submitted.
Every month, WhichVoIP.com helps consumers and businesses research, evaluate and compare different VoIP providers. WhichVoIP.com partner, Tony Campbell stated, "VoIP is still a fast growing market and more and more companies are continuing to add a VoIP offering to existing suites of services. While nice websites and attractive pricing can give a prospective buyer the impression that cost is the main differentiator, the technology and customer service behind the offering can vary significantly. This makes evaluating user reviews and comments of a service an extremely critical part of the purchasing process, and as one of the leading sources of VoIP provider reviews, WhichVoIP.com is uniquely positioned to help."
Additionally, Campbell stated, "Smart companies are very focused on reputation management and should address any issues that consistently arise within negative reviews. A lack of recent reviews may also raise a red flag with a prospective customer as it can create a perception that there is not much interest or engagement around that particular service. We encourage every provider to let customers know that they can use WhichVoIP.com as a resource for feedback and testimonials, and we now offer a free stamp of approval that can be displayed on a provider's site. WhichVoIP.com attracts over 1 million visitors each year that are looking to learn about Voice over IP and read reviews on VoIP providers. This is a tremendous branding opportunity for service providers."
The ten most talked about VoIP providers on WhichVoIP.com for 2014 are:

Vonage (home and business services)
RingCentral
Nextiva
8x8
Ooma
Basictalk
magicJack
VoIPo
PhonePower
ITP
In closing, Campbell stated, "While every user review and comment is screened through our authentication process, we realize that prospective customers need to read between the lines and determine what aspects of a service are most important to them. To help with this, we have recently added a comprehensive editor review for every major VoIP provider in North America."
For further information on Voice over IP and companies that offer this service, please visit http://www.whichvoip.com/
ABOUT WHICHVOIP.COM
WhichVoIP.com, based in Seattle, WA, was founded in 2005 by a group of telecommunications experts who specialize in Voice over Internet Protocol (VoIP). Recognizing that VoIP represents the future of telecom, this team set out to provide buyers of VoIP for both home and office with the most reliable information about the technology, as well as comprehensive reviews of VoIP providers.