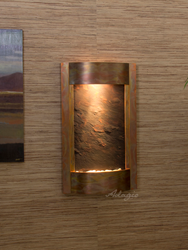 (PRWEB) October 13, 2015
Adagio Water Features offers many different styles and finishes of wall waterfalls. Each water fountain collection offers a variety of water surfaces and metal trim selections. This week Adagio has expanded the Serene Waters, Calming Waters, and Pacifica Waters lines to include two more popular metal finishes. Now available in Stainless Steel and Rustic Copper trim, these water features offer a total of seven different metal trim options to mix and match with five different water surfaces. This makes these water fountains an interior designer's dream. With such a large variety of colors, the perfect combination can be found to match any décor.
These water features were already available in Antique Bronze, Textured Black, Copper Vein, Woodland Brown, and Silver Metallic trim finishes. Adagio has responded to customer's requests by expanding the line to include the Stainless Steel and Rustic Copper. Justin Combs, general manager of Adagio Water Features, stated "Stainless Steel and Rustic Copper are two of our most popular finishes. The decision to expand the Waters line to include these came from requests made by our customers."
The Stainless Steel finish gives it a polished and professional look to the water feature. When paired with silver mirror, it has a very modern appeal. The Rustic Copper finish is created by hand with a flamed patina. This technique makes each water feature unique since the pattern and coloration will vary some from one piece to the next. The Rustic Copper finish brings more of an organic and rustic look to the water fountain. This finish pairs great with the natural Featherstone slate.
Since their inception in 2001, Adagio has continued to expand their wall waterfall selection to provide the best options to their customers. The Serene Waters is perfect for a small room, measuring 21 inches wide and 36 inches tall. The Pacifica Waters is more impressive measuring at 32 inches wide and 69 inches tall. The Calming Waters is a horizontal water feature, measuring 54 inches wide and 35 inches tall. Each of these water features come with little assembly required, making them easy to install and enjoy.
The soothing sound of running water creates a calming environment where everyone can relax and take a break from the hectic pace of life. Adagio strives to make these benefits available to everyone with this economical line of water features, with the retail price starting at only $499.
About Adagio Water Features: Tranquility originates in Salt Lake City, Utah where Adagio designs, and produces the highest quality water features available. Adagio blends the beauty of natural slate and rainforest marble trimmed in premium metals, with the gentle flow and sounds of rushing water set to halogen lighting. Please visit http://www.waterfeaturesinc.com.