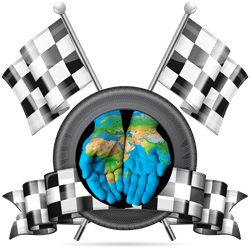 With the addition of the social media element, WAAD15 can combine a high level of resource sharing with the potential to take our awareness action items viral.
Global, Online (PRWEB) April 29, 2015
This unique six-day virtual car race will send participants around social media and the internet, earning mileage points for their favorite Nonprofit Race Teams, while joining live webinar "Detours" and taking part in several scheduled live call to action "Crowd Rally" experiences. Dozens of nonprofits around the world will be participating, including Spondylitis Association of America, Lupus UK, Arthritis New Zealand, the International Still's Disease Foundation, National Rheumatoid Arthritis Society, American Autoimmune Related Diseases Association, and the Sjogren's Syndrome Foundation, but other Kiosk Resource supporters, such as the American College of Rheumatology and EULAR, will also have resources to share during the event.
"World Autoimmune Arthritis Day (WAAD) was created as an online experience for patients with Autoimmune Arthritis diseases, their friends and families," said Tiffany Westrich-Robertson, co-founder and CEO of the International Foundation for Autoimmune Arthritis (IFAA), official hosts and event coordinators. "While historically the event ran as an online virtual convention, this year we are catapulting WAAD15 to a whole new level. With the addition of the social media element, WAAD15 can combine a high level of resource sharing with the potential to take our awareness action items viral," states Westrich. "Autoimmune Arthritis patients deserve this level of understanding, as they have lived way too long in the shadows of more well-known autoimmune diseases and under the misconception that what they have is the same as degenerative arthritis. It's time people understood."
Those who wish to participate will be asked to register, but there will be no cost for registration. Signing up to support up to three Nonprofit Race Teams can be done through the website at http://www.worldautoimmunearthritisday.org starting May 1st, but the race will be held on the World Autoimmune Arthritis Day Facebook and Twitter pages: http://www.facebook.com/WorldAutoimmuneArthritisDay and http://www.twitter.com/WAutoimmuneAD . The event is registered on over two dozen health calendars internationally and anticipates over 50,000 will participate.
The International Foundation for Autoimmune Arthritis is an award-winning organization focusing on patient-centered research, education, awareness, and uniting a global network of resources to help those affected by autoimmune arthritis diseases.
Autoimmune Arthritis and related diseases currently covered during WAAD15 include: Rheumatoid Arthritis (RA), Psoriatic Arthritis (PsA), Ankylosing Spondylitis (AS), Sjogren's Syndrome (SS), Systemic Lupus Erythematosis (SLE), Still's Disease (SD), Juvenile Arthritis (JA), Undifferentiated Connective Tissue Disease/Undifferentiated Spondyloarthropathy (UCTD/SpA), Relapsing Polychondritis, and Vasculitis*. For more information, please contact Tiffany at: tiffany(at)IFAutoimmuneArthritis(dot)org.
This event was made possible through the generous support of Genentech, Celgene, and Pfizer.
*Any legal 501c3 nonprofit that is associated with the autoimmune arthritis diseases may participate.