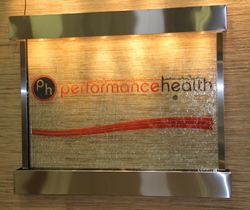 Adagio Water Features has just released a new line for water fountains called Tailor-Made Water Features, which is for center and flush mount freestanding as well as wall mounted styles
Salt Lake City, UT (PRWEB) December 28, 2015
Adagio Water Features has just released a new line for water fountains called Tailor-Made Water Features, which is for center and flush mount freestanding as well as wall mounted styles. With indoor water fountain's popularity increasing, Adagio continues to expand their standard water feature options and create new options. In the past customers could only order based solely on the dimensions of the stock production models. Now a customer can choose the exact height and length of their water feature to match their unique specifications. (Some limitations apply.)
Tailor-Made Water Features brings customers specific needs in a water fountain to life, whether it is to fit a specific décor, or custom built space. These features are separated into different groups: sizing, trim options, surface material options, fill & drain options as well as upgrade options. Some limitations apply and some larger fountains may require multiple panels.
This new line offers 12 different metal trim options that are sure to meet any décor needs. Adagio offers 9 standard different trim colors: Stainless Steel, Antique Bronze, Blackened Copper, Textured Black, Woodland Brown, Silver Metallic, Copper Vein, Silver Vein and Snow White. Customers can choose from 3 Upgraded Metal Trim Options as well: Rustic Copper, Untreated Copper and a Custom Powder Coat. Standard Metal Trim Options will be included in the base price of the fountain.
The focal point of any water feature is the water surface. Choosing the right water surface material and color is simple with the Tailor-Made Water Features. Select from Clear Glass, Blue Glass, Green Glass, Frosted Glass, Rain Glass, Silver Mirror, Bronze Mirror, Featherstone, Stainless Steel, Copper untreated and Copper patina. Adagio chose to offer such a larger assortment of material, color and texture choices for the water surface so customers could have a much greater selection to meet their individual needs.
Adagio's General Manager, Justin Combs, received the requests and inquiries about Computerized Autofill systems for the water features and added the Fill & Drain options to the new line. A Computerized Autofill system fills the water feature as needed so that the customer won't have to worry about the water level getting too low and damaging the pump. Other upgraded options are Hood Covers and Personalized Logo Engravings. The Freestanding features will have Lit Hood and lighting options whereas the lights will be already included with the wall mounted features.
About Adagio Water Features: Tranquility originates in Salt Lake City, Utah where Adagio designs, and produces the highest quality water features available. Adagio blends the beauty of natural slate and rainforest marble trimmed in premium metals, with the gentle flow and sounds of rushing water set to halogen lighting. Please visit http://www.AdagioWaterFeatures.com.