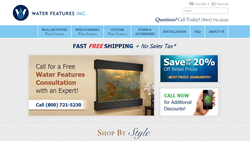 We are striving to better serve our customer by improving our website. This should simplify their selection process and purchase
(PRWEB) February 06, 2015
Water Features Inc was established in 2008 to serve customers with their indoor waterfall purchases. As the only current Platinum Adagio Water Features dealer, Water Features Inc has just released a new website that will be easier for customers to navigate and find the best product for them. "We are striving to better serve our customer by improving our website. This should simplify their selection process and purchase," says Justin Combs, general manager of Water Features Inc. There are more pictures and more information about water walls than ever before. The customer service center stands ready to help with any questions via email, phone call, or live chat.
Indoor water fountains are becoming essential in businesses such as spas, nail salons, dental clinics, and doctor's offices. They are also very popular in professional offices such as law firms, real estate offices, corporate headquarters and churches. The soothing sounds of falling water calms clients and surrounds them with a peaceful, relaxed feeling. The tranquility they create encourages customers to return again and again. They can also be customized by adding a company logo or slogan to the water surface. This is a great way to make sure your logo is seen and not forgotten.
Wall water features are also very popular in homes. Imagine the peaceful, welcoming feeling you would receive by walking into a home with a water feature in the entryway. Many people add one to a study or living room to help relax after a long day at work. They can easily be personalized by adding a favorite quote, scripture, or logo sand-blasted and painted onto the water surface.
There have been many studies on the effects of the sound of running water and stress levels. Although it would be best if everyone could go out to a natural waterfall and take in the negative ions and fresh air, that is not possible for most people. An indoor waterfall can bring the benefits of nature to any surroundings. Moving water releases negative ions, which boost moods, increase energy levels, and strengthens immune systems. A water feature is also a natural humidifier, revitalizing skin and reducing allergies. Water Features Inc wants to bring the tranquility that an indoor wall water fountain provides to all that encounter it.
Dedicated to providing excellent customer service, Water Features Inc only sells fountains made in the USA by Adagio Water Features. Waterfalls receive free shipping within the continental US and can be shipped directly to any chosen recipient. The variety of water surfaces, metal finishes, sizes, and styles means the perfect water feature can be found to match everyone's tastes and décor.
About Water Features Inc: Water Features Inc began its E-commerce business in 2008 and represents the finest products in the industry. Our highly trained staff of service representatives are prepared to handle all aspects of your transaction before and after the sale. Please visit our site at http://www.WaterFeaturesInc.com.