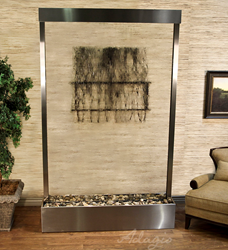 Due to the unique nature of the sign, the company name will remain in the minds of all those who encounter its natural beauty
(PRWEB) March 17, 2015
The popularity of an indoor water feature is growing. They are not only being used in large businesses, but in homes and smaller offices as well. One of the new ways to incorporate an indoor water fountain is to use it as a room divider instead of building a solid wall. Freestanding water features are able to separate areas within a large room without causing visitors to feel blocked in.
One of the new ways these water walls are being used currently is in local restaurants. Many restaurants are looking to separate the area where those who are waiting to be seated, from those in the dining area. Glass water walls are a good option since they can define the two areas, but keep the smaller waiting room from feeling too enclosed. Since the glass can be seen through, the waiting area feels larger than it is and gives a more open feeling. The sound of the running water helps those who are waiting feel relaxed and comfortable, while creating a white noise that will help block out the conversation sounds from other guests. With the new different color glass options, it is easy to match the décor of the restaurant or office.
Floor glass water fountains are now also being used in spas and salons to separate different areas of the business. They create a peaceful environment for clients while defining space for various treatments. By having each area defined, the commotion from one treatment doesn't adversely affect those receiving a different treatment. Smaller areas also provide a cozy feeling, which is relaxing and encourages clients to want to return. The different sizing options for the glass water feature, allows companies to use them in almost any location.
Water features are also now being used to make an unforgettable statement to current and prospective clients. It is becoming very common to see these water features with the company logo engraved, announcing a business. Whether the water walls are standing outside or dividing areas of a lobby, they are hard to miss. Anyone passing by will notice not only the beauty of the water feature, but also the logo for the business. Due to the unique nature of the sign, the company name will remain in the minds of all those who encounter its natural beauty.
About Water Features Inc: Water Features Inc began its E-commerce business in 2008 and represents the finest products in the industry. Our highly trained staff of service representatives are prepared to handle all aspects of your transaction before and after the sale. Please visit our site at http://www.WaterFeaturesInc.com.