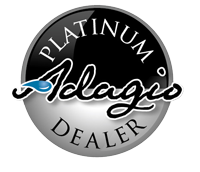 (PRWEB) March 31, 2015
As Water Features Inc. strives to be the best website for consumers to buy indoor water fountains, it has now achieved the status of a Platinum Dealer with Adagio Water Features. This is a status Water Features Inc. is very proud of. There are strict guidelines that must be met in order to achieve this rating to ensure the consumer is getting the best purchasing experience possible.
The first requirement is the company can only display and sell Adagio Water Features products. "We believe Adagio Water Features manufactures the highest quality water fountains available and we only want to sell the best" said Kristi Wilson, Customer Service Manager. The exclusive sales of Adagio Water Features products allow Water Features Inc. to fully understand each water feature collection and truly help the customer.
The second requirement to be a Platinum Dealer is to have sold Adagio Water Features products online for a minimum of three years. Water Features Inc. has been in business since 2008, selling Adagio Water Features products since its beginning. Adagio has this requirement to ensure the companies who reach Platinum status are experienced with their product and have a working product knowledge base.
One of the most important requirements for the Platinum Dealer status is all employees must be Certified Adagio Product Knowledge Specialists. This ensures the consumer will receive accurate and valid information while shopping, as well as great customer service after the sale. Every employee must be able to help customers with product questions, installation instructions, and maintenance for each water feature sold.
Finally, the Platinum Dealer must have a proven track record of exceptional customer service. Adagio wants to be sure every consumer who purchases from its Platinum Dealers are well taken care of. Quick response to emails and phone calls is a must. If any problems occur along the way, the Platinum Dealer must quickly and effectively help the customer and resolve the issue in the best possible way.
Meeting each of these requirements is an achievement Water Features Inc. is very proud to have now reached. They strive to maintain this status by continuing to provide the best purchasing experience for their customers.
About Water Features Inc: Water Features Inc began its E-commerce business in 2008 and represents the finest products in the industry. Our highly trained staff of service representatives are prepared to handle all aspects of your transaction before and after the sale. Please visit our site at http://www.WaterFeaturesInc.com.