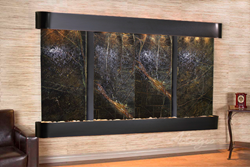 Water Features Inc is proud to offer free shipping for all on their website going to the continental United States
(PRWEB) May 18, 2015
Indoor water features are becoming more popular as scientists are discovering the health benefits that come from owning one. Business and home owners are adding them to offices, family rooms, entry ways, waiting areas, patient areas, and more. The wide variety of sizes and styles that are now available make it simple to find the perfect water feature to match any room.
Most indoor water fountains come with multiple options for water surfaces and metal finishes. When choosing the best water feature for a decorating project, adding shipping costs into a budget is never preferable. Solid slate and marble can be very heavy and costly to ship. Freestanding water features are large and have high dimensional weight. The unwanted expense of shipping can cause a project to either go over budget or force changes in the design.
Water Features Inc is proud to offer free shipping for all water walls purchased on their website going to the continental United States. This new offer is designed to help customers in selecting the right water fountain for their needs. When the worry of the cost of shipping is eliminated, a customer is free to choose whatever water feature fits their needs best and see the final cost up front. There is no waiting to add something to a cart to find out what the shipping charges will be and determine if it still fits in their budget.
If a customer is in Alaska, Hawaii, or Canada, discounted shipping is offered. Water Features Inc is happy to provide shipping quotes over the phone or email to anyone who is interested. Although this does not completely remove the shipping charges for these customers, having the freight cost deeply discounted is very helpful.
Water Features Inc strives to provide their clients with the best purchasing experience possible. They feel that adding free shipping to water feature purchases will not only save customers money, but will help simplify the buyer's experience.
About Water Features Inc: Water Features Inc began its E-commerce business in 2008 and represents the finest products in the industry. Our highly trained staff of service representatives are prepared to handle all aspects of your transaction before and after the sale. Please visit our site at http://www.WaterFeaturesInc.com.