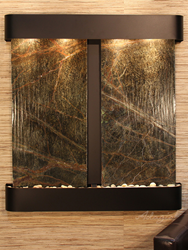 (PRWEB) June 04, 2015
There are many health benefits to owning an indoor wall fountain. They are natural air purifiers, humidifiers, and stress reducers. As more people learn of these benefits, having a water feature in a home or office is becoming much more common. Now Water Features Inc is making it more affordable as well.
Effective this week, all of the multi-panel wall water fountains and some of the single panel water fountains were reduced in price. Some as much as 20-30%. It is more affordable than ever to add the beauty of a wall water fountain in any home or office building.
The most common comment about indoor water features is how relaxing and soothing they sound. This calming effect can greatly enhance a client's experience in a business that has a wall water feature. Many dentists, doctor's offices, spas, lawyer's offices, nail salons, restaurants, and corporate offices have included a water feature in their décor to encourage clients to relax and want to come back.
Indoor water fountains are great for homes too. After a long day at work or running around with the kids, it is nice to be home and take a few moments to unwind. The natural sounds of running water in a family room or den can help melt the stress from the day away and set a good mood for the evening.
Another popular location for a wall water feature is in an entry way. Guests feel the welcoming atmosphere of a home or office when they step inside to the natural beauty and soothing sounds of a water wall. Encourage guests to want to come back again by making them feel comfortable and peaceful from the beginning of their visit.
Water Features Inc is very excited to be able to help more people experience the benefits of their own water feature with their new, lower prices.
About Water Features Inc: Water Features Inc began its E-commerce business in 2008 and represents the finest products in the industry. Our highly trained staff of service representatives are prepared to handle all aspects of your transaction before and after the sale. Please visit our site at http://www.WaterFeaturesInc.com.