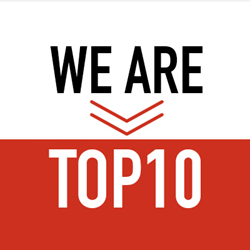 If you can't stop thinking about it..... Buy It.
Miami, Florida (PRWEB) September 24, 2015
After a successful launch of BestActionCamReviews.com, the web's first and leading action camera buying guide focused on action cameras–which were made popular by Nick Woodman of GoPro, as shared in this infographic–Founder Hafiz Muhammad Ali promised to launch a bigger buying guide for shoppers. That promise has been fulfilled with the help of fellow Internet professional, Salman Aslam.
What these longtime marketing experts found is that online shopping is getting more confusing and cumbersome due to the hundreds of brands and products available for anything a shopper wants to buy. This confusion can be frustrating and may lead to an unpleasant shopping experience.
The newly launched WeAreTop10.com website takes all the confusion and inconvenience away. Only the best and highly reviewed products are handpicked to be featured on this website. A variety of pricing structures makes it easy for someone to shop for the best quality product they want, that also fits within their budget.
An example of shopping at WeAreTop10.com: If a shopper would like to buy anything for his everyday life, he or she would simply visit any particular category, click on the product, e.g. treadmill, and choose how much to spend on this product and the best brands in that price range will be displayed. This holds true for more than a dozen product categories from home products to personal care and every life. Health and fitness, sports and outdoor, tech gadgets and automotive products are included as well, along with more.
The old cliché "Nothing haunts us like the things we didn't buy" is kept in mind with the WeAreTop10.com website by how quickly and easily the entire shopping experience has been designed to be. This way shoppers can conveniently purchase what they need, without having regrets later.
About We Are Top 10: Founder Hafiz Mahammad Ali promised to launch a top 10 product site for shoppers to help them make the best online purchase decisions. The We Are Top 10 website is the web's most trusted list site for top 10 products in different lines. It is designed to include the most up to date information about a full range of products. These products range from Best BBQ Grills to Knife Sharpeners to Paper Shredders and much more. Shoppers can visit dedicated pages for every product type and then select the price range to view the best reviewed product in that price range.